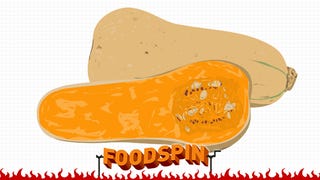 There's the versatility of, say, a boneless, skinless chicken breast—it tastes bland and uninteresting pretty much no matter what you do with it, so it "goes" with everything, like gustatory khaki—and then there's the versatility of the butternut squash, which is so outrageously goddamn good that you could wrap it in…
Grand Central Terminal in New York City is once again consumed with sports spectators as we approach the final day of the J.P. Morgan Tournament of Champions, a competition to determine the world's best squash player. The glass cage in Vanderbilt Hall has become an annual pilgrimage site for avid followers of the…
The longest and most annoying win streak in the history of college sports is finally over. The Yale men's squash team defeated Trinity College 5-4 last night, ending the team's 13-year, 252-match undefeated streak that will be remembered for reminding us, approximately once a year, that squash is a sport that people…
Cameron Pilley is a native of Australia who is currently the 16th-ranked squash player in the world. Last week, he set a world record for hitting a squash ball, variously reported at 173 or 175 miles per hour, depending on whether you believe this or what Pilley had to say in the video (not that it makes much…
But this one produced a minor chuckle. So congratulations to commenter "Achiever" for earning his gold star. Please send me your real life info so we can also send you shit from our desk. Email is ajd@deadspin.com. Use it.
Have you seen the trash-talking squash player video? It so matches the intensity of football or basketball that I almost wish those sports had never been invented so I wouldn't have to see squash players acting like such goons.
"At first, the Harvard Club "freaked the kids out a little," said Mr. Polsky, who belongs to the club. "There were animal heads on the wall, and white people." [NYTviaTheAwlviaRambleOnRose]
Trinity College in Connecticut won its 11th straight national title on Sunday, extending their consecutive match winning streak to an unconscionable 202 straight, a feat that would much more impressive if anyone cared about squash.