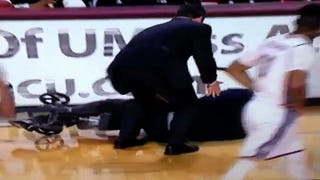 St. Bonaventure head coach Mark Schmidt tore his achilles a few weeks back, and has been wheeling around on a tricycle scooter ever since. That turned ugly for him tonight after the Bonnies' 69-55 win over UMass, when he completely wiped out. Get well soon, coach!
Another day, another blown call that changed a game's outcome in Nashville as third-seeded Florida State escaped with a win over St. Bonaventure due to referees missing this violation (hint: when inbounding the ball you have to stay out of bounds) that would have handed the Bonnies the ball under their basket and a…
The past ten years have been mostly forgettable for St. Bonaventure, the tenure's nadir being a 2-26 season in 2005 that came in the wake of scandal and suicide. Last season's 16-15 record was the first time the Bonnies finished above .500 since 2002, and their last NCAA appearance was in 2000.