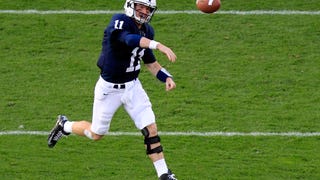 Penn State's football program may be on its way to the cathartic comeback predicted here and there at the beginning of the season. After starting the year with consecutive losses to a very good Ohio University team and a pretty bad UVA team, Bill O'Brien's squad has won four straight, including its two games against…
Prompted by a discussion between Gawker's own Mobutu Sese Seko and Sports Illustrated college football writer Holly Anderson, we created this mp3 celebrating the best and only relevant moment of Night Ranger's musical career. We think it's worth using to highlight plays, so here's the best runs from this past weekend…
You may never hear the name Angelo Sharpless again, but for two seconds and an eternity on Youtube, he was The Man. He plays guard for DII Elizabeth City State University, and pulled off this massive throwdown at the Ben Wallace Pro-Am league in Richmond, Va. (Like all summer league dunk videos, it appears to have…
We first showed you what it looked and sounded like last week, when members of the Southern Miss pep band put their ignorance on full display by taking aim at Kansas State's Angel Rodriguez during the first round of the NCAA tournament. In case you missed it, we've again posted the video for you above.
Penn State needs to secure a home win this afternoon against Michigan State, and through one and a half quarters things couldn't be going much better. The Nittany Lions have built up a 14-0 lead over the Spartan. Penn State is getting great performances out of quarterback Daryll Clark,who has thrown for an efficient…
After a week of piddling interest, college football returned with a vengeance. Before I get rolling with 11 observations on the weekend that was, let me take this opportunity to get this before the jump. Our fearless editor is going to have a full-report from OSU-USC, but let's just say it now, can we start an online…
Sometimes choosing which college football games to watch is tough. Particularly since, unlike the NFL, the games kick off at odd hours, on odd stations, with odd match-ups. And there are so damn many of them. As college football has become more commoditized the top 2 or 3 games soak up 99% of the attention and the…
It was a phenomenal little ride while it lasted, but the Dead Schembechlers are no more. The punk band announced last night that their performance at the Hate Beat Michigan rally would be their last. They also elected to give all proceeds from their final show to a charity of the Schembechler family's choosing.