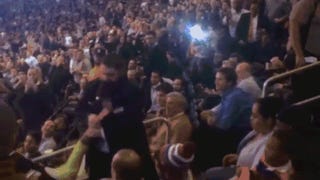 In what will go down as the most exciting moment of either team's season, a well-known Nets fan was physically ejected from last night's game against the Knicks. His prosthetic leg—which security guards said he had used to hit another fan, something disputed by multiple eyewitnesses—was left behind.
The Chicago Bears fired legendary coach Mike Ditka on Jan. 5, 1993, Four days later, in Saturday Night Live's cold open, the recurring "Super Fans" characters, famous supporters of "Da Bears," wrote a protest letter to the team, with Ditka himself making a cameo at the end. We've come across footage of him taping that…
Keith Franklin, better known as "Superfan," is a 49-year-old die-hard fan of the U.C. Irvine Anteaters who's just been banned by the team he loves. Franklin, who sounds a little bit like the Ultimate Warrior of baseball fans, was a steady presence at 'eaters games until this February when he ran on to the field to…
Green Bay cops are doing that thing where they won't officially say whether a fight involving 20-30 people outside Lambeau Field, which saw two arrested and one man hospitalized, had anything to do with the football game. I think we can probably read between the lines, though.
Maybe you know that Bruce Harper wore number 42 for the New York Jets from 1977 to 1984 and that he is the all-time leader in punt return yardage in Jets history. It's more likely, however, that you know that Fireman Ed wore number 42. He didn't back Joe Namath or Wesley Walker or Curtis Martin. The Jets' most famous…
On Tuesday, we brought you the tale of a Phillies superfan that one tipster dubbed "Drunk 9/11 Hippie Girl," a moniker based on (a) her presumed level of intoxication, (b) her unwavering patriotism, and (c) her obvious predilection for wearing headbands and bracelets and expressive body paint. After our initial story,…
Here, Priscilla and Ashley discuss, or at least make reference to, the Mavericks/Thunder series, manners, personal space(s), sweat flavor, stalking Awful Joey Crawford and whether inking prevents pregnancy, while Priscilla or Ashley gets "Thunder Up!" and "Rise Together" tattoos added to her inner-thigh canvass.
We've seen the Bunny Man at enough Yankee games over the years to know he's got season tickets, and the felt rabbit handpuppet is doing his thing 100 percent of the time. Throughout the entire game the bunny sits on his lap, watching the game—he moves the puppet's head to follow the action on the field. It's…
"Hi fellow brewer fans, I am getting married in August and since both of us are diehard crew fans, we are having a brewers themed wedding." Stop right there. Where are you registered and should I bring bottles or cans? [Wrigleyville23]
At least, there's no November Rain in the Superdome. I can't even begin to describe the joy inside that comes from watching the pure, unbridled devotion pour out of this mustachioed, '80s hair rocker who has leapt forward in time—or got stuck in it—to give his love and support to his favorite star-crossed football…
Much wailing and gnashing of teeth on Thursday by certain commenters over my lack of knowledge on Freddy Schulman, the rickety, meshugga gentleman who haunts Yankee games with a frying pan, a teaspoon and odd, colorful signage. For pinstripe fans, it must have seemed as if I were insulting an eccentric old uncle. So…