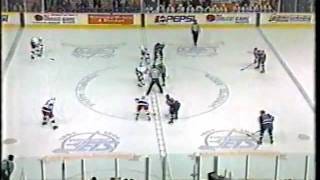 When you break an Oilers team record, especially one that's held by Wayne Gretzky, it has the feel of something bigger. But since Taylor Hall broke Gretzky's 33-year-old mark by scoring twice in eight seconds, and it was Edmonton's only points in a loss to the Islanders, it's very much a sign of the times.
The Washington Capitals' Alex Ovechkin is a great hockey player, this GIF aside. He led the league in goals and willed his mostly bad team to the playoffs. He was, it's fair to say, the best right wing in hockey. And the Pro Hockey Writers' Association (PHWA) recognized that in its all-star balloting: Ovechkin made…
Edmonton's wunderkind got sliced open by a teammate's skate at Tuesday's warmup, requiring 30 stitches and a promise to his mother that he'll wear a helmet next time. Hall spoke to reporters for the first time today, and rather than listen to what he had to say, they all just snapped cell phone pics of his gnarly scar.
Try to justify the institution of the enforcer in hockey to an outsider, and you'll likely pull out the usual arguments. It's about protection, about fear, about retribution. So yes, on a basic level, it's about pain. But it's never, never about injury. So with two players still out in the wake of a one-goon rampage,…
Anaheim's Corey Perry was just trying to set up a teammate in front of the net as the clocked ticked down. Instead, he ended up committing one of the biggest goofs in recent memory.