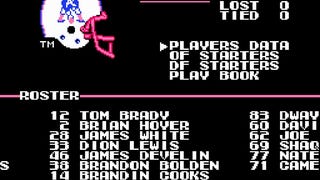 Your halftime entertainment is a CPU vs CPU simulation of tonight's Titans-Patriots game in Tecmo Super Bowl, and it's LIVE: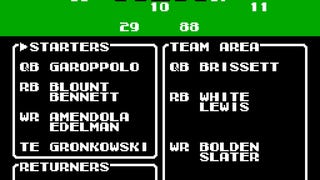 It's time to update our Tecmo Super Bowl rosters and CPU vs CPU sim Sunday's Patriots-Cardinals game. Can Jimmy Garoppolo lead New England to the win? Find out on Facebook Live:
Remember the lullaby afternoons of September, when we all figured we'd see a Heisman winner who merited the award? Maybe a Geno Smith, slinging the ball all over the yard, or even a Matt Barkley, who despite being named after Big Bird's dog had the right pedigree and weaponry (Robert Woods and Marquise Lee catching…
As you can see, it's pretty much the same game. It doesn't have official player or team names, but those are apparently pretty easy to switch. We don't have a Nintendo DS, but we assume the controls are similar to the original ones. Unfortunately, though: No Bo Jackson.
So, by this scientific simulation, expect a big day from Kevin Faulk.
Above is the second half of the Giants-Buccaneers tilt; it's amazing how compelling watching the final seconds turns out to be. We are almost certain that will be more entertaining than the actual game.
I'd assume that a Tecmo Bowl Byron Leftwich would keep cycling through his receivers with the B button until someone sacks him.
When we go through our Friday selection of various weekend previews, we hit the usual suspects (King, Simmons, Zimmerman, O.J.) and then always make sure to drop in on The Ex-Burgher's Tecmo Bowl previews. Essentially, he uses the Tecmo Bowl prototype (with updated rosters!) from the Tecmo Super Bowl Repository and…
From our old friends at Kissing Suzy Kolber comes this rather classic video of showing just how great Bo Jackson was on Tecmo Bowl. It's a quarter-long touchdown run. This almost certainly happened to us repeatedly as a child.