Rumors—and common sense, given that he's 52 years old—suggested The Undertaker's final appearance for WWE would be at tonight's Wrestlemania in Orlando. And so it seems, as the Deadman stripped himself of gloves, cloak, and hat while breaking kayfabe to kiss his wife upon leaving the ring following his main event loss…
This week the Tampa Bay Times published a bonkers story that is so exceptionally Floridian that I have to share it with you all. It features partying, foreclosures, drugs, The Undertaker, racketeering, and a cosmetic surgeon, among other things.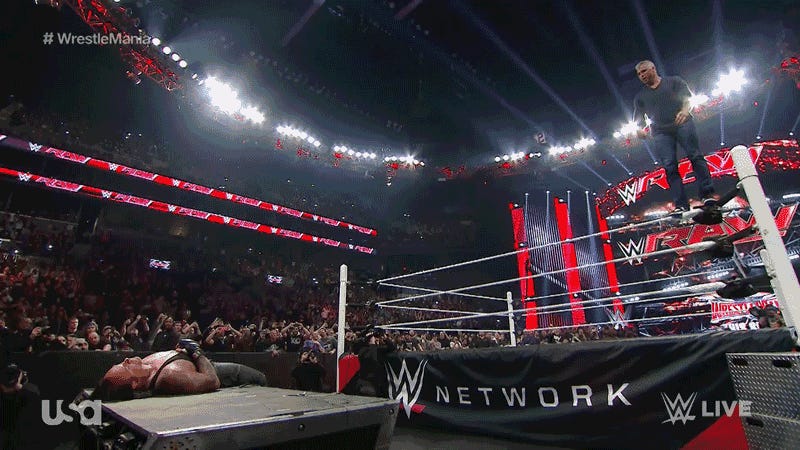 WWE wrestler The Undertaker is 50 years old, but he can still deadlift 405 pounds.
The Undertaker's 21-match unbeaten streak at WrestleMania is no more, after a surprise loss to Brock Lesnar last night. Fans were in shock, but no one was happier than those bettors who put money on Lesnar when he was a huge underdog.
WrestleMania is the kind of thing you can really only discuss in superlatives: it's the biggest, the loudest, the most-hyped, the most outrageous, the most ridiculous, and the most fun. Yes, pro wrestling is a totally unique performance art, one of the last direct links to an old, weird America, etc., but more…
In keeping with our inability to notice anniversaries until it's too late, we'd like to point out that it was 15 years ago last night that Mankind and the Undertaker faced off in one of the most memorable and brutal wrestling matches of all time.
Former WWF and WWE manager Paul Bearer (real name: Bill Moody) died last night at the age of 58. If you haven't already, read the essay The Masked Man wrote for us two years ago about The Undertaker. And in the meantime, check out this weird little gem from 1991, when The Undertaker and Paul Bearer stayed completely…
Since the dawn of time, it's been mankind's dream to own the Sports Almanac from Back To The Future Part II. If one could know the result of a sporting event beforehand, one could make untold riches by gambling on it. While the Novikov self-consistency principle — or perhaps Calvinism — means this can't happen, what…
An occasional feature in which we honor the sport's fallen and examine their legacies. Today we have a special edition of Dead Wrestler of the Week: The Undertaker, who defeated Triple H last night in WrestleMania 27 and who, while still very much alive, has long been a death-obsessed figure in a death-haunted sport.