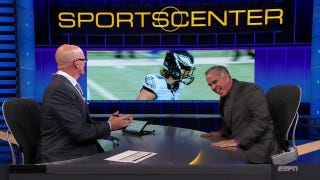 One of Scott Van Pelt's recurring bits on radio was taunting fellow Maryland native Tim Kurkjian with that curious dialect known as "Ballimerese"—something that repeatedly made Kurkjian giggle like a little girl. Van Pelt brought it back tonight on SportsCenter, and it had the same effect.
Tim Kurkjian stopped by The Dan Le Batard Show with Stugotz on Friday, and things got weird. Listeners heard Kurkjian talk about his penis size. Let's figure out how we got to this point.
Syndicated political columnist Charles Krauthammer decided to phone in his pre-Memorial Day column, and, in turn, wound up introducing us to the world's most insufferable get-together. He presents:
It's more understated than Blue Jays catcher J.P. Arencibia's, we'll argue. Arencibia's is perhaps funnier—he brought Kurkjian's voice to a comically high pitch—but Ruiz's seems more precise. He's Darrell Hammond to Arencibia's Will Ferrell.
Tim Kurkjian, Baseball Tonight's creaky-voiced elder statesman, started a Twitter a couple weeks ago. He might not be getting the hang of it.
Tim Kurkjian is awfully excited about the Rangers scoring 30 runs. (Honestly, we lightly mock, but we think it's pretty awesome to see someone having this much fun at their job.) [Best Week Ever]