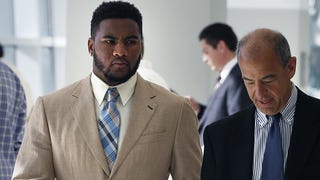 Remember T.J. Ward getting charged after some sort of strip-club altercation? Today, the Broncos safety settled all that by agreeing to perform four hours of community service, the Denver Post reported. In return, prosecutors will drop the charges against him.
When Browns safety T.J. Ward sent his shoulder crashing into Rob Gronkowski's outstretched right leg, everyone had the same two thoughts: "Holy shit, Gronk just tore his ACL!" and "Ward only went low because he didn't want to concuss Gronk and get fined for doing so." Well, try telling that second one to Gronk, who…
And Phil Taylor caught the whole thing on camera and put the video on Instagram. Afterward, with his teammates laughing all around him, Ward did all there was left to do: He sheepishly rubbed his balls a lot.