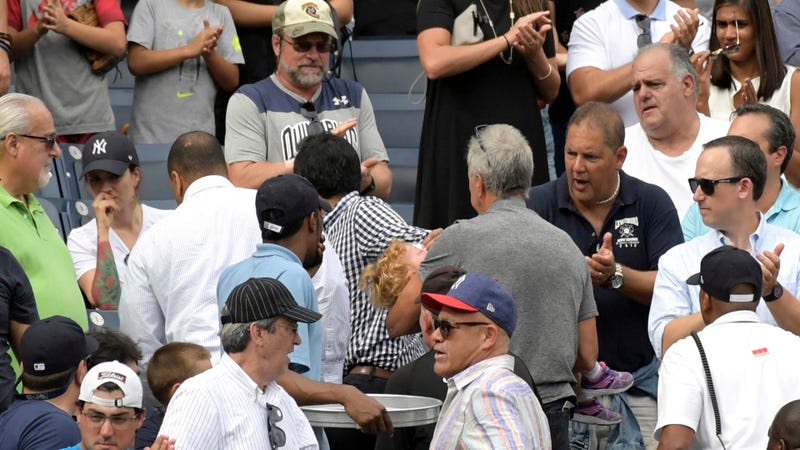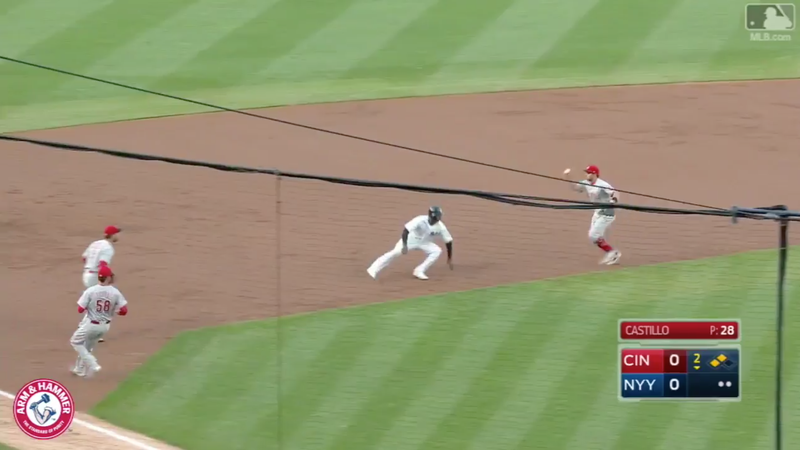 Todd Frazier's first home plate appearance at Yankee Stadium was one to remember. He knocked in a run to take a 1-0 lead, yeah—but he did so in what ultimately became a triple play, thanks to teammate Didi Gregorius's antics on the base paths. Gregorius, who was on second base to start the play, got stuck in a rundown…
Sometimes when you dive into the stands, you come up with the catch of the season, and sometimes, you get soda all over yourself and smash your face up.
The Home Run Derby was, from top to bottom, the best in the event's three-decade history. (I want to hug the phrase "buzzer-beating home run." We've finally perfected sports.) MLB is rightfully being universally praised for introducing new rules that increased the drama, excitement, and competition, and I don't want…
We thought the new Home Run Derby format sounded good, and it turns out that it was. In a scene straight out of an MLB marketer's daydream, longtime Cincinnati Red Todd Frazier won in bonus time over Joc Pederson, the most exciting Home Run Derby in years.
My jerk coworkers won't understand, but Derek Jeter does represent something to Yankee fans of a certain age. Like me! Over the course of his career, baseball players went from grown men I admired to people who are now younger than me. These two pictures, of Jeter posing with Reds 3B Todd Frazier 16 years apart,…
OK, this is getting ridiculous. After telling you all about Reds third baseman Todd Frazier's Herculean accomplishments on and off the field, and uncovering his status as the prodigal son of Toms River, N.J., we were pretty certain that the man couldn't get any more like like Bill Brasky. We were wrong.
You already know about Todd Frazier's mythical ability to hit home runs without the use of his hands, as well as his unmatched heroism in the face of murderous chunks of steak, but did you know that Todd Frazier has been making a legend of himself since he was a child?
You may remember reading about the Reds' Todd Frazier last week, when he hit a Jamie Moyer "fastball" out of the park by essentially throwing his bat at the pitch. It was a pretty incredible feat, one which ensured that the 26-year-old rookie will at least be as memorable as that bird that Randy Johnson destroyed…
Old Man Moyer will be shaking his cane at kids for days after this one. On a day when he gave up four home runs and allowed seven runs against the Cincinnati Reds, this right here will stick in his craw most. Todd Frazier hit a home run in the bottom of the fourth by essentially throwing his bat at the ball.