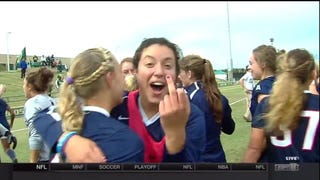 Earlier today, we brought you the image above, of UConn freshman Noriana Radwan flipping off an ESPN camera after the Huskies won their conference championship game yesterday. Forty-five minutes later, we got the following sternly worded release from UConn, along with a request to add it to our coverage:
"Does this look like the office of a fucking egomaniac?" He makes a sweeping gesture with his arm. A coach's office. Small, cluttered. Papers strewn across his desk, the papers inked with symbols in odd patterns, like ancient hieroglyphics, waiting for future generations to decode them. X's and O's, dotted lines,…
Here is your open thread for a full day of college basketball. Photo via.
The Minnesota Lynx won the 2011 WNBA championship today, after defeating the Atlanta Dream, 73-67, for a three-game sweep in the finals. They were feted by a parade in downtown Minneapolis this afternoon: 15,000 fans came out to Nicollet Mall, and 4,500 more joined the team at the Target Center. All of the details,…
Yesterday, Mike Zaleski, executive director of the Hartford Business Improvement District, said if he couldn't get his fingers wrapped around $25K by Friday, there would be no parade to commemorate the victors of one of the worst college-basketball championship games in the history of round objects. Fine, he didn't…
A premiere research university like Connecticut has a certain image to uphold, even when its Division I basketball team wins a national championship and the entire student body goes apeshit crazy overnight. At UConn, this video suggests, students join together to peacefully sing "We Are the Champions" and sway in…
Hours before his 57th birthday, and just after his Huskies beat Purdue by 24 points in Storrs to advance to the Sweet 16, Geno Auriemma sat down in a press conference and found something to complain about. Only about 5,700 people — just about half the capacity of Gampel Pavilion — had come out to see his team's…
Deadspin contributor Robert Lunn pens his thoughts about the stabbing death of his former teammate, Jasper "Jazz" Howard. Condolences go out to Rob and the rest of the UCONN football program. [NESN]
Ken Kreyeske, a freelance journalist in Connecticut, got on Jim Calhoun's bad side by questioning the coach's $1.6 million salary at the press conference following UConn's win over South Florida.
If you stayed up past midnight on the east coast last night to watch USC-Oregon State right now you're blearily wiping your eyes and cursing the decision as lunch nears and all you want to do is crawl under your desk and sleep. If you're like me you might also be questioning why you let Birmingham, Alabama's finest…
Sometimes choosing which college football games to watch is tough. Particularly since, unlike the NFL, the games kick off at odd hours, on odd stations, with odd match-ups. And there are so damn many of them. As college football has become more commoditized the top 2 or 3 games soak up 99% of the attention and the…