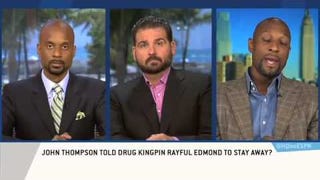 Today is a great day! It's been almost a year since Dikembe Mutombo went on Highly Questionable and shot down one of the greatest urban legends in sports, denying that he ever walked into a club and shouted, "Who wants to sex Mutombo?" Today, those of us who have held on to the hope that Mutombo was lying have been…
Drew Magary's Thursday Afternoon NFL Dick Joke Jamboroo runs every Thursday during the NFL season. Email Drew here.
Time for your weekly edition of the Deadspin Funbag. Got something on your mind? Email the Funbag. Today, we're covering Penn State, falling, vending machines, and more. Image by Jim Cooke.