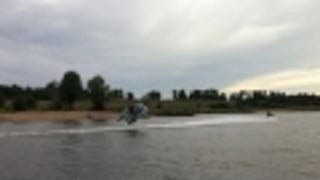 Tube kites, inflatable rafts that are designed to take off when towed at speed, are banned in most parts of this country thanks to their disastrous safety record. Thankfully, Russia exists.
Off the coast of South Africa doing a shark count in Mossel Bay, members of an Ocean Research team were chumming the water in order to draw their numerical prey in. It wasn't long before an 1,100-pound, 10-foot great white took it upon itself to get airborne in a successful effort to go aboard the boat without…
A couple weeks ago, windsurfer Boujmaa Guilloul was involved in a serious accident while trying to land the elusive Triple Loop at Ho'okipa. It was a water in the lungs, broken fingers type thing.
An intrepid digital camera owner shot this footage of Deron Williams cliff-diving at Sand Hollow State Park in Utah and we thought that it really needed the be dubbed with a T.I. song to fully emphasize the badassery on display. [SLC Dunk]
KXAS-TV does one of those routine cheerleaders-force-other-cheerleaders-to-drink-urine stories, only this one involves some gross-out B-roll and a "bad taste in their mouth" zinger as the kicker. Kudos to the awesomely monikered reporter, Ashanti Blaize. [Fat White Guy]