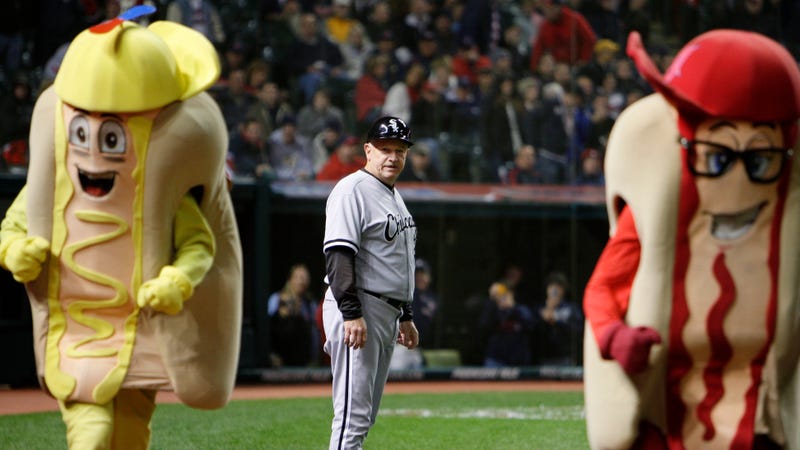 Having only won a single game in their last 13, culminating in three straight losses to the Chicago Cubs, the Chicago White Sox are struggling to attract fans to the ballpark. Perhaps having intuited that a .111-hitting Yoan Moncada, Alen Hanson, David Holmberg, and Whothefuckis Thatguy aren't going to draw in even…
Why an alarm clock that wakes you up by having Hawk Harrelson scream "You can put it on the board ... YESSSS!" at you exists I just can't tell you, though Paul Skrbina of the Chicago Tribune has reported that we came close to living in a reality where the clock yelled "You gotta be bleepin' me!" at you. What I can…
Chicago White Sox announcer Steve Stone has been one of the best color men in baseball for decades, and for half the year—the half he spends calling Sox home games with Jason Benetti—he remains one. During the other half of the year, which he spends calling Sox road games with Hawk Harrelson, he becomes subject to the…
Tonight, while the baseball world watched the return of Alex Rodriguez, another young baseball fan used Twitter to gain a whole lot of attention and retweets in exchange for promising everyone the schadenfreude of watching him get obliterated by stadium security. He began the night with a simple proposition: 1,500…
We alerted you to the wackiness that was going on in the White Sox-Mariners game last night, but we feel it's necessary to mention it again today, because it really was one of the craziest games history. How crazy was it? Let's count the ways:
The Athletics and the Yankees clinched their respective division titles on the same day, but the paths they took to get there were very different. The A's budget freight train slammed through a Rangers squad that had sat atop the AL West for over 170 consecutive days, while the Yankees barely edged the Orioles despite…
In the bottom of the seventh of yesterday's game against Oakland, White Sox shortstop Alexei Ramirez hit a grounder to the left side of the infield. Third baseman Adam Rosales and shortstop Cliff Pennington both went for the ball. Meanwhile, White Sox catcher and notable asshole AJ Pierzynski took off from first.…
We're not saying Freddy Garcia is drunk in this video, taken at the White Sox' annual SoxFest. We're just pointing out he's unsteady on his feet, slurring his words, and saying "fuck the Cubs, motherfucker."
Sales of Chicago White Sox hats have gone up 25% since Barack Obama was elected. Dick Cheney fedora sales also brisk. [Chicago Tribune, via Ben Maller]