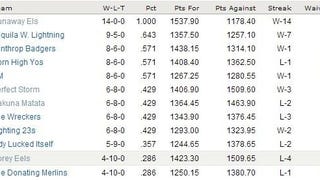 Via the Twitter of Daryl Morey—God bless him, he has a sense of humor about the whole thing—comes this scorecard from his season of fantasy football. Daryl Morey is the GM of two teams: the Houston Rockets (a basketball franchise) and the Morey Eels (a fantasy football franchise). One of the jobs, he's supposedly very…
John Daly has suddenly reformed into golf's good guy, says his maybe-soon-to-be-restrained wife, and she's not going to stand for it. Also, she "would like you to know that she did not stab her husband." Duly noted. [Commercial Appeal]
Bianca Wilfork isn't your typical NFL wife. She's more of a business manager for Vince Wilfork, handling virtually everything outside of football for Vince. And above all else, she watches his games closely. Very closely. Bianca put her DVR skills to good use this week, and probably saved her hubby from a suspension…
Some more updates on the domestic abuse allegations against notoriously angry Dodgers outfielder Milton Bradley. The Daily Breeze reviewed the 911 calls that started the whole allegations, and apparently, it was in fact Bradley who made the calls in order to calm down his "crazy" wife.
Just about two months after being arrested for throwing his wife from their car — it was his second arrest for spousal abuse within a year — Dolphins tight end Randy McMichael has pleaded out, accepting a misdemeanor of "trespassing," on his wife, in a similar way that Jason Christensen "trespassed" on Barry Bonds.…

See that woman right there? Her name is Elsa Benitez, and she's a supermodel. She is also married to former NBA oaf Rony Seikaly. Pretty good, right? Way to go, Rony, yeah?

Miami Dolphins tight end Randy McMichael was arrested last week for spousal abuse, his second arrest for that charge in the last 13 months. (The good news is that she wasn't pregnant this time.)
Controversy in Boston is nothing new, even when the Red Sox are coming off a World Series win. Outfielder Johnny Damon and soon-to-be-closer Curt Schilling have been having a minor scuffle, with Damon saying Schilling shouldn't be a closer and Schilling responding with, "Contrary to popular belief, I have done this…
All right, now, we pay pretty close attention to this sports business. (We do it for a living, after all.) But we'll fess up: We had heard nothing about this Bobby Abreu story from last month. Maybe it's because we don't watch Spanish language TV. But still.

You didn't think we'd ignore this all day, did you? The New York Post features a sports column today from the only person who knows less about the NBA than Peter Vescey: Anna Benson! The wife of overpaid Mets righthander Kris Benson penned the first of what will hopefully be millions of NY Post diary columns this…