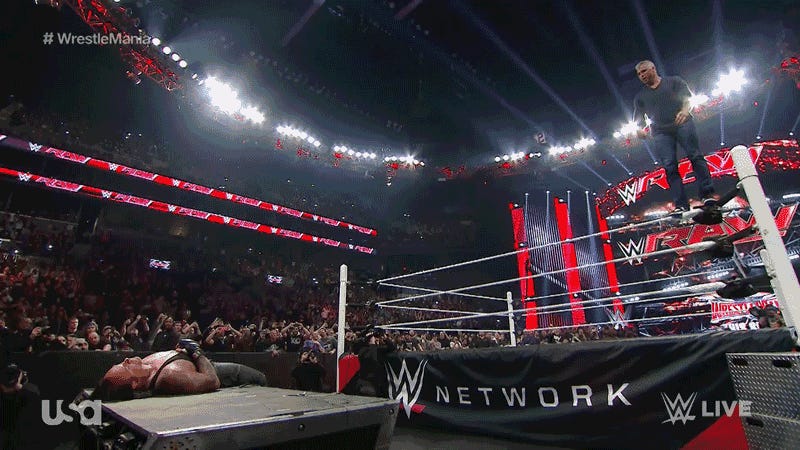 The Rock returned to the WWE tonight in Miami, as Dwayne Johnson took a step away from his Ballers filming to deliver an, uh, energetic performance on Raw.
Wale has had a busy 24 hours. Before hitting the club with DeSean Jackson and engaging in a Socratic dialogue with the ESPN assignment desk, he attended WWE Raw in Washington D.C. While there, he had a brief physical confrontation with a fan who was talking shit to him on Twitter.
WWE's Monday night Raw showcase is themed "Old School" tonight, and such former pro wrestling dignitaries as Hacksaw Jim Duggan, Sgt. Slaughter, Honky Tonk Man, and "Million Dollar Man" Ted DiBiase have so far made appearances. Alas, DiBiase's valet Virgil is nowhere to be found. We'd figure our erstwhile friend…
Hot on the heels of Jon Gruden's appearance at a WWE event in Tampa, here's famed tennis love couple Steffi Graf and Andre Agassi catching last night's Raw from Agassi's hometown of Las Vegas. Graf doesn't seem so sure about the whole enterprise, while Agassi is especially excited to catch a glimpse of The Rock (who…
The case for last night's ugly incident at the end of WWE Raw being a legit shoot grows stronger as a bold individual has stepped forward on his Twitter account to admit punching C.M. Punk in the kidneys, prompting the wrestler to club a nearby fan he appears to have mistakenly believed to have been responsible for…
Two weeks after Jerry Lawler's on-air heart attack led to a breakdown of kayfabe on WWE Raw, unscripted events again found their way to air as two idiots broke the barricades in Albany and headed onto the mat during a match between Ryback and the Miz.
With all the debate surrounding whether rape jokes are appropriate, we're kind of amazed this made it to air. Here's a segment from last night's WWE Raw in which Abraham Washington—manager to Titus O'Neil—lauds the strength of his wrestler by claiming "He's like Kobe Bryant in a hotel in Colorado. He's unstoppable!"
Tonight is the 1000th episode of WWE Raw, which started life as an unassuming little weekly program based on the novel conceit that wrestling could be broadcast live, in primetime. It's easy to forget now, but they barely made it to 200 episodes. The upstart WCW, on the strength of poached talent and the NWO,…
Monday marks the 1000th episode of WWE Raw, and to celebrate, Aftermath has put together an infographic on the stats for wrestlers, venues, titles, and match types to appear over the last 19-plus years of Monday night rasslin'. Here's just a part of the graphic; be sure to click through for the whole thing. [Aftermath]