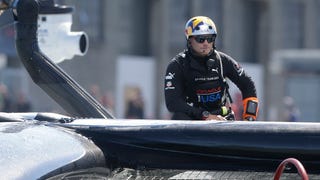 Oracle Team USA, which counts more New Zealanders than Americans among its crew, just beat Emirates Team New Zealand in the 19th and deciding Boat Race To End All Boat Races.
Don't be ashamed if the America's Cup, just hours away from completion, is only now popping up on your radar. This has been the longest, strangest, most controversial edition in the event's 162-year history. Here are answers to your most pressing questions so you can watch the final race like a pro.
Nate Silver wrote a couple weeks back that sailing was the most wide-open of all the Olympic sports. Because so much depends on guessing and timing wind shifts, any country could win a medal with luck. The best teams don't always win.
There's no more basketball or hockey on television this weekend. Football's weeks away. There's baseball, if that's your thing, but we're not even at the all-star break. So the weekend will be all about the global sports: soccer, various Olympic trials, and... sailing? Yes, the America's Cup World Series—a new event…
The Puma Mar Mostro had her mast snapped on the first leg of the Volvo Ocean Race (which, if you're unfamiliar with yacht racing, makes the America's Cup look like a Boy Scout portage), and the crew wound up on a barely inhabited southern island roughly equidistant from South Africa and South America.
One thing we know about yacht racing: When you change your dock-out song and still lose, it was not meant to be. For the first time in 24 years, there will be no U.S. team in the Louis Vuitton Cup final. Luna Rossa of Italy beat the Americans to clinch the best-of-nine semifinals, 5-1. Yes, we have been defeated by…