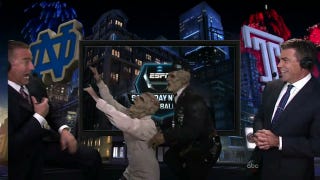 Chris Fowler played a wonderful prank on Kirk Herbstreit tonight, surprising the ESPN analyst with some characters from the Eastern State Penitentiary haunted house during halftime of tonight's Notre Dame-Temple game. It's the first time a zombie has been on Saturday Night Football since Eminem's appearance.
Virus outbreaks are popping up across the country, authorities are scrambling, the news is bleak, and you have no idea what's going on. There are panicked rumors that zombies are behind the chaos and multiplying at a rapid pace, taking over one neighborhood at a time. Sirens are blaring across the city, the power just…
I don't use Facebook much anymore, because anyone with a brain knows that Facebook is terrible. Apart from the long-standing complaints about privacy and insufferable people posting pictures of their own feet from a fucking beach, it's really only useful as a one-time thing. You make your account. You look up old…
Zombies took over Petco Park last night, right from the ceremonial first pitch. It was The Walking Dead Night, and it had nothing to do with the Dodgers being in town.
Of all the boogie monsters and creepy creatures in our public consciousness, the zombie is the most metaphorical by virtue of being the most inflexible. All the other monsters are too human: Vampires and werewolves and Frankenstein's monsters—they're all too motivated by reason, by desire, by upward inflections of…
American international Alejandro Bedoya has been bagging goals for his Swedish team Orebro. He's also importing some American low-culture to Scandinavia. Here he is doing The Bernie, which in case you weren't already aware was inspired by the dead guy in "Weekend at Bernie's" and resembles The Dougie on too much…
Just so you know, the Patriots are dismissing reports that Tom Brady had been turned into a lifeless, blood-thirsty zombie. [Your Face Is A Sports Blog]