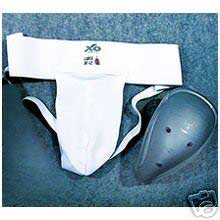 Say what you will about the intensity of Bears fans, but some bits of memorabilia are out of the range of reasonable and rational thought, even to them.
Because, so far, no one has yet to bid on Brian Urlacher's jock strap.
This auction is for an Authentic Used Brian Urlacher Athletic Supporter. The item is in used condition and has a tear in back strap from use. The item was obtained by myself as a locker room attendee. My duties included handling the teams gear, this item was discarded and replaced, and was worn during the first half of Super bowl XLI.
Tear in back strap from use. Of course. We're not quite sure why this would cost 25 bucks to ship, but hey, what do we know? We suspect Michael Flatley's costs less.