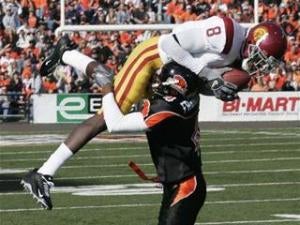 • Oregon State 33, (3) USC 31. I was almost certain that Oregon State would blow it, giving us a chance to replicate one of the all-time great headlines in sports history. But the Beavers held firm and denied USC's attempt to come back from a 30-10 deficit with about 20 minutes to play. Oregon State knocked down a John David Booty pass that would've given USC a 2-point conversion and the tie with almost no time on the clock. USC's loss will likely move West Virginia into the 3rd spot in the BCS Rankings, making Thursday night's game at #6 Louisville pretty huge.
• Temple 28, Bowling Green 14. There weren't a ton of compelling games outside of the USC/Oregon State contest... so I'm giving this spot to the Temple Owls, who ended their 20-game streak of futility by knocking off Bowling Green yesterday, 28-14. I particularly enjoyed this gloating post at Temple Football Forever (yes, it's a Temple football blog), directed at this two-year-old, Temple-mocking column by a Bowling Green alum. That guy's been waiting over two years to write that post... God bless him.
• (9) Florida 21, Georgia 41. If we're going to stop calling it the World's Largest Outdoor Cocktail Party, maybe we should also consider not calling it a rivalry at all. Florida's won 8 of their last 9 against Georgia, and 15 of their last 17. Florida's defense was the story of the game, almost by default. The teams combined for 27 completions on 61 attempts, for one touchdown and three interceptions. Not the prettiest of games. Perhaps they should promote drunkenness.
College Football Scoreboard [SI.com]