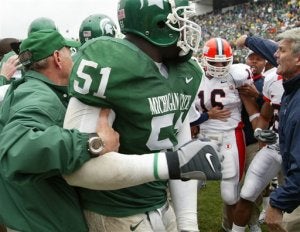 • Illinois 23, Michigan State 20. It doesn't say much for the day of college football when the biggest stories of the day were a couple of close calls, and the upset of an unranked team. Illinois stole the show yesterday, knocking off Michigan State by a score of 23-20, notching their first Big Ten win since 2004. Can that be right? '04? Really? Some Illinois players decided to try to plant their flag at midfield, and a brief scuffle ensued. I think they could've just saved everyone a lot of time and gone ahead and driven the flagpole directly into John L. Smith's chest.
• Ohio State 38, Iowa 17. "I think if there's a guy in the locker room who said that we weren't the No. 1 team in the nation, he'd have a problem with me," said Ohio State QB Troy Smith after Ohio State's convincing 38-17 win over Iowa. Is there someone in the Ohio State locker room with bipolar disorder? Why would anyone say that? But hey, if Troy Smith wants to threaten an imaginary self-loathing Buckeye, then who am I to disagree with someone who's probably got the Heisman wrapped up already?
• Georgia Tech 38, Virginia Tech 27. Georgia Tech turned the tables on Frank Beamer a little bit yesterday, blocking kicks and winning the special teams battle en route to a win that wasn't nearly as close as the final score would indicate. Last year, Virginia Tech whomped that yellow jacket ass by a score of 51-7, and GT's been thirsty for revenge since. It's also worth asking if the ACC might now actually be worse than the Big East conference they raided for Miami and Virginia Tech a couple of years ago. The Big East isn't as deep, certainly, but at the top, they're better.
Other Top 25 scores:
(3) USC 28, Washington State 22
Alabama 13, (5) Florida 28
(6) Michigan 28, Minnesota 14
Sam Houston State 3, (7) Texas 56
Mississippi State 17, (9) LSU 48
(10) Georgia 14, Mississippi 9
Purdue 21, (12) Notre Dame 35
(14) Oregon 48, Arizona State 13
(15) Tennessee 41, Memphis 7
Louisiana Tech 0, (18) Clemson 51
(20) California 41, Oregon State 13
Kansas 32, (21) Nebraska 39 (OT)
(22) Boise State 36, Utah 3
Colorado 13, (25) Missouri 28