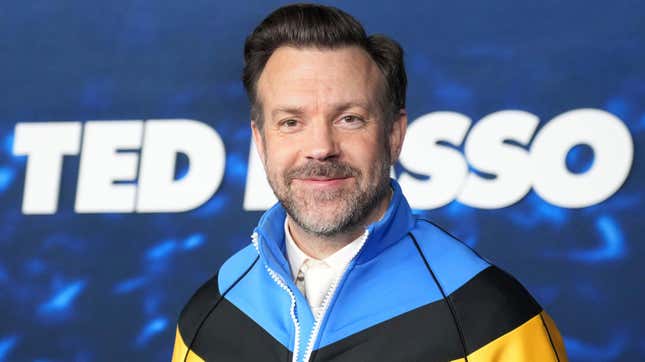 The third season of Ted Lasso debuts next week, and I think we've officially hit our hype threshold for a sitcom, and definitely for a sitcom inspired by a commercial. (RIP Cavemen, the Geico caveman show, gone too soon.) If you haven't watched the feel-good phenomenon, consider this a spoiler warning for every season, of which there are two.
Ted Lasso's James Lance on Trent Crimm's journalism rule-breaking
The first season was a stroke of genius and hit at the perfect time — right when people really needed something to give them hope. Something to, if you will, believe in. The reason I'm worried about Ted Lasso season 3 has nothing to do with Jason Sudeikis, the constraints of the gimmick/premise, or Roy Kent showing up in an MCU post-credits scene. (Well maybe it has a little to do with the latter.)
What I'm worried about is society has fully moved on, at least mentally, from COVID. Our lives don't revolve around the latest outbreak, and those of us who needed a smile have already got our fix, resumed our daily lives, and felt the cynicism creep back in.
The plot seems rather obvious, not to mention redundant, and I say that because the trailers for season three are a bunch of montages of Lasso and Co. smiling. All that happiness was needed in the middle of rampant depression, but now… now it's just overkill.
The Jeni's Ice Cream conundrum
When you mix Lasso's brand of optimism with overexposure, it invites critics. Last weekend, my girlfriend saw that Jeni's Ice Cream was debuting a Ted Lasso Biscuits with the Boss flavor and wanted to try it. Not a big deal, right? Who is planning their weekend around an ice cream release?
It certainly wasn't us. It merely seemed like something to do on a Sunday afternoon. However, when we arrived at the Jeni's, the employee behind the counter informed us that the Ted Lasso ice cream sold out in less than an hour at all their locations. (You like that on-the-ground reporting here from Nine News Deadspin?)
I'm not upset about an ice cream flavor as much as I'm annoyed by the fanfare. Ted Lasso was a niche show that exploded because it came along at the perfect moment, and now it's Pharrell's Happy from the Despicable Me movie. I don't know if Lasso can withstand the scrutiny that comes with massive expectations. Yes, it has Emmys. So does The Big Bang Theory.
Lasso season two had lulls, and some episodes were sickeningly joyful. You know when you take a bite of a dessert that's entirely too rich, that was what it felt like to watch the Lasso Christmas special. What was the plot? Christmas spirit?
Apparently, that episode was a late addition due to a directive from Apple, but that's another red flag. Once a service knows they have a hit on its hands, they immediately try to boost its awareness and flood the market as if it didn't greenlight a show based on a Premier League promo.
There's always that moment in rom-coms when the protagonist gets so big that her face is plastered on the side of a bus that drives by at the most inopportune moment, and that's the moment we're at with Ted Lasso.