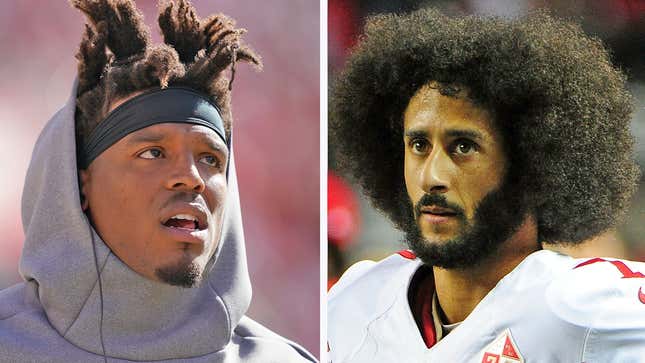 It's crazy that the NFL keeps finding a way to leave worthy quarterbacks out of the mix.

Its latest mess — the league's official website wrongly labeling Colin Kaepernick as "retired" — left much of the Twitter world irate, including Kaepernick's girlfriend, radio host Nessa Diab.
She blasted the NFL, calling them "cowards," and said Kaepernick's stats should earn him a job behind center. The quarterback has been blackballed by the league since taking a knee to protest police brutality.
NFL.com quickly changed Kaepernick's status from "retired" to "unrestricted free agent" after the huge backlash on Twitter.
Almost four years after his protest, Kaepernick still finds himself without employment from an NFL franchise. As more mediocre QBs are scooped up this year in free agency, their worthier counterparts are once again on the outside, looking in.
Most notably, former MVP Cam Newton.
While Newton hasn't been blackballed, there has been a questionable reluctance to sign such a serviceable player, especially as franchises continue to sign quarterbacks with far less talent and production.
On Friday, the New York Jets signed Joe Flacco, 35, to a one-year deal for $1.5 million, with $3 million more in possible incentives. Flacco was a fine quarterback in his prime, but he's older than Kaepernick (32) and Newton (31) and is coming off neck surgery in April after a herniated disc derailed his 2019 season.
Newton and Kaepernick are both multidimensional offensive threats, with over 300 combined career touchdowns.
Many of the quarterbacks signed this year could only dream of those numbers.
So while Newton lays in wait, and Kaepernick continues to be blackballed, let's take a look at some of the other quarterbacks inexplicably signed before these two.