Hyeon Chung defeated Tennys Sandgren 6-4, 7-6 (5), 6-3 in the quarterfinals of the Australian Open. Before that, under the new scrutiny that comes with being one of the last eight remaining players in one of the biggest tournaments in tennis, Sandgren deleted all his tweets, including one that expressed support of the Pizzagate conspiracy. At the start of his post-match press conference, Sandgren read a monologue off of his phone:

You seek to put people in these little boxes so that you can order the world in your already assumed preconceived ideas. You strip away any individuality for the sake of demonizing by way of the collective.

With a handful of follows and some likes on Twitter, my fate has been sealed in your minds. To write an edgy story, to create sensationalist coverage, there are a few lengths you wouldn't go to to mark me as the man you desperately want me to be.

You would rather perpetuate propaganda machines instead of researching information from a host of angles and perspectives while being willing to learn, change, and grow. You dehumanize with pen and paper and turn neighbor against neighbor. In so doing, you may actually find you're hastening the hell you wish to avoid, the hell we all wish to avoid.

It is my firm belief that the highest value must be placed on the virtue of each individual, regardless of gender, race, religion, or sexual orientation. It's my job to continue on this journey with the goal of becoming the best me I can and to embody the love Christ has for me, for I answer to Him and Him alone. I'll take questions about the match, if you guys don't mind. Thank you. If you have any questions about the match.
Here you will find no apology for his previous statements, no revisiting of old opinions. What you will find is outrage from someone who had previously enjoyed anonymity, faced a sudden bright beam of scrutiny, and now feels very much the victim, as if things were being invented to smear his name, instead of being exposed in perfect daylight.
What's funny is that Sandgren has identified a real failing here, if in a roundabout and totally bad-faith way: the scrutiny just hasn't been good enough. Lots of observers, including those who ask the questions in interviews and press conferences, have used their questioning to hastily bundle Sandgren in with "the alt-right" without pressing on any of his underlying views. Consider how this has progressed:
From British journalist Simon Briggs came an important, if imprecise set of questions that got the ball rolling. He asked Sandgren: "Yeah, there was a Pizzagate exchange at some point, and I just wondered if you were concerned about having yourself connected to some of these controversial figures." (He did not ask which particular elements of the conspiracy that involves Democrats running a Satanic pedophile ring out of a pizza restaurant's basement Sandgren believed in.) He asked Sandgren "Do you feel that you support some of the alt-right movement?" (But not about any particular views—Sandgreen's tweets contained Islamophobic, homophobic, and transphobic statements—he might hold.) These are questions about social affiliation, not intellectual viewpoints. Viewed uncharitably they might appear to stem from the tribalistic impulse that Sandgren is denouncing: a desire to understand someone as a type rather than as a particular person.
G/O Media may get a commission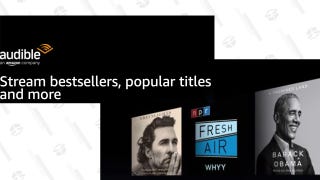 FREE
Audible Premium Plus 3-Month Free Trial
Soon after being pressed by Briggs, Sandgren began deleting his tweets. The next day Chris McKendry took the next stuttering half-step forward, asking him what he meant when he said that he found some of the alt-right content "interesting," but you can't exactly expect an ESPN on-air interview to pose penetrating questions. The relevant questions would not require you to cite any broader ideology. They need not even use the phrase "alt-right." To try and slot him into some movement or slap him with a buzzword is to miss the point—and to offer him an annoying escape route, whereby he can praise the value of the individual over the collective, in a new-to-tennis, but strangely familiar tirade, hitting all the familiar notes of "fake news" and false martyrdom. The question to ask him need only address the words that Sandgren himself has written in public. You can ask him about the specific remarks he has made: whether his eyes started "bleeding" when he walked into a club with gay people in it, what he finds disgusting about what Serena Williams did one match, or what it is about Hillary Clinton's relationship to a pizza restaurant that he believes is "sickening," and that "the collective evidence is too much to ignore."
If you are interested in what Tennys Sandgren thinks, ask him about those particular things he has volunteered opinions on. Let his answers stand out in stark, granular detail.
"I have ideas, but those ideas could be wrong. The only way that you would change someone's mind is through dialogue, through productive discussion. If you're not going to have productive discussion, what are you going to do?" Sandgren asked on a recent podcast, sounding very much like someone who would field any and all questions at a press conference. "Are you going to get offended when someone says something that is counter to your worldview? I think you need to be willing to change your worldview, or at least be open to other people's ideas."
You don't have to be interested in Sandgren's ideas about anything outside of a tennis court, but if you are, at least ask correctly. Otherwise—like he says—just ask him about the match he lost.