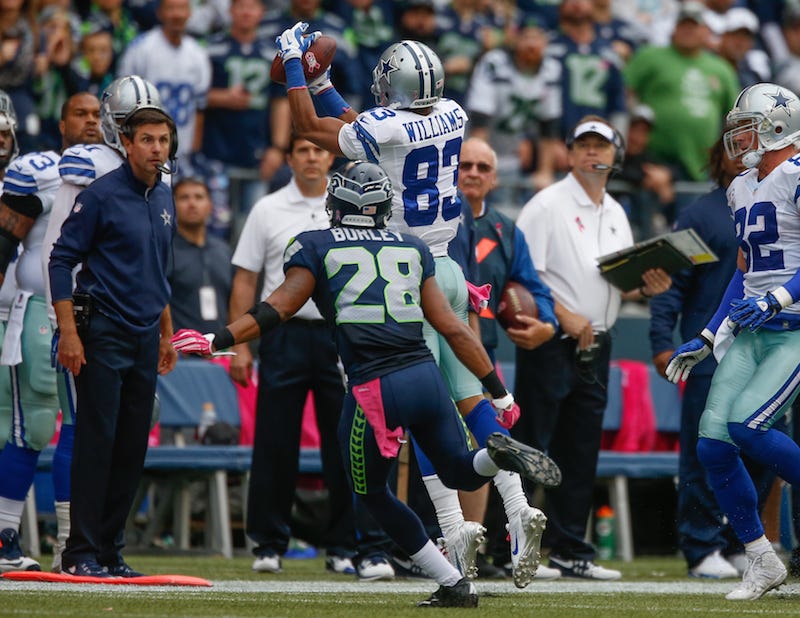 The best and most important play on Sunday was Tony Romo's hookup with Terrance Williams on a third-and-20, keeping alive a fourth-quarter drive that would end in the Cowboys' go-ahead touchdown against the Seahawks. There had been 55 third-and-at-least-20s to that point in the season, according to ESPN Stats & Info, and teams had converted a first down once. Romo and Williams made it twice.
Williams's catch was beautiful. His double toe-drag was something you'd expect from the sophomore receiver; he'd showed it off at Baylor. But Romo's evasive maneuvers were the key. Let's break it down.
As the ball's snapped, Seattle sends a five-man rush:
Linebacker Bruce Irvin gets around the edge and has a shot at Romo:
Romo channels his inner Cunningham and twirls back to avoid Irvin, but there are two more guys—defensive tackle Jordan Hill and linebacker Heath Farwell—closing in:
Romo runs right, and left guard Ronald Leary takes care of Hill while Farwell loses his angle:
Irvin takes one last swipe from the ground, but misses. There's Romo pointing. Shit's about to pop off:
Done. Williams gets his feet down on the pass intended for him—and not nearby tight end Jason Witten, according to Romo—and Dallas marches on. It was a very pretty play by Romo that led to a very big victory for the Cowboys, who are 5-1 and a lot of fun, all of which feel like strange words to type, and yet here we are.
Top photo: Getty