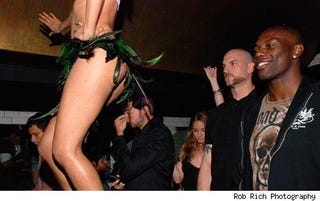 Last we'd heard from Terrell Owens, he was angrily unleashing his lawyers upon the BangBros. after his photo "accidentally" showed up in the promo for "Spring Break Ass," the story of a spunky college co-ed and her fluffy badonka-donk's Miami misadventures.
Once again, T.O. finds his head popping up within close range of strange short-ham, thanks to TMZ's photographer who captured the l wide out within sniffing distance of another female trunkage at a Hamptons nightclub.
Perhaps his affinity for all things Daisy Duke is what possessed him to allegedly try to bust through the velvet ropes atthe Bank nightclub in Vegas showing a little too much leg for the bouncer's taste.


T.O. Goes Up The Middle [TMZ]

Falling Short [Page Six]