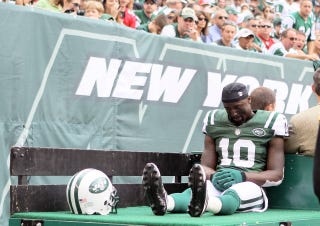 The Jets are in trouble. Their last game against the 49ers was an embarrassing 34-0 rout. Mark Sanchez passed for 103 yards. The Jets' next game is Monday night against the Texans, and the team has to improve. So someone on the Jets' Facebook page came up with the idea to ask Jets fans for help, seen below: "What do we need to focus on to be ready for Monday?" Here are some responses, fully [sic]'d:
Brad Rinschler Quitting
Stiles John Walters leadership!!!!!!!!!!!!!!!!!!!!!!!!!
Anthony Frederick Magic water from Space Jam
Sam Krogstad TEWBOW AT QB.............
Jabril Showers SWAG
Jabril Showers YOU HAVE NO WEAPONS AROUND MARK SANCHEZ AT ALL ..REVIS IS DONE,SANTONION IS OUT FOR SEASON..!!BUT REMEMBER THE SEASON IS STILL YOUNG..AND WE ARE TIED FOR 1ST IN THE DIVISION
Elfido Vargas ya needa work on getting a new QB seriously im a jets fan to the heart but wen i no something is rong is becuz something is rong you guys shud give tim tebow a shot 2 see what he can do ....... sanchez styll thinks he's in college he's to scared to step up to the plate !!!!
Alex Durr O line need to protect sanchez so he can make the throw and WR need to get their hands out of their A** and catch the dang ball. Oh and if got tebow, please use him more than one play to run. Like two games ago, he ran for 22 yards on 1 carry. I mean if one thing is not working use him, dnt pay him to warm the bench and tell sanchez "ule get that one back dnt worry man"
Marcos Marino you will need a very comfortable talk with the team
Marcos Marino xgvjkxñc
Vincenzo Ambra tell Mark to stop sneaking Longoria into his room the night before the game... I was young once...I know what a woman like that could do.
Youn Twon tim tewbow as stater job!
Courtney Elliott Play Tebow more! Use him more effectively other than special teams. The guy has talent and its just being wasted on the side lines. Rex just got him for media hype.. use him or let someone else have him that will USE him correctly!
Knick Grasso Play the guys who want to win. We need winners on our team not mopers! More Joe Mcknight, more aaron maybin, more creativity...MORE HEART! All that locker room is missing is some fire! Someone needs to light a fire up under this teams arss so we beat the texans and silence some of the critics!
Eric J. Greco Greg McElroy
Edward Kehl A game called FOOTBALL !!!!!!
[Facebook]