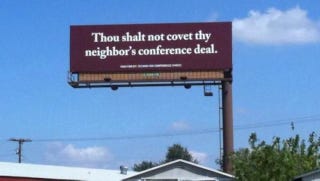 Just when we think we've gone and boiled Texas football down to its essence, the Texans go and out-Texan themselves.
This week in Waco, about 100 A&M fans pooled their money to put up a billboard right near the Bears' football stadium in Waco. Baylor is still threatening legal action should the Aggies ditch the Big 12 for the SEC—hence the giant maroon sign: "Thou shalt not covet thy neighbor's conference deal."
The billboard, organized by A&M grad Luke Jalbert, cost $2,750 and is "all in good fun" (and perhaps a little bit confused by the meaning of the word "covet"):
"I was sitting there frustrated that evening wondering what we could do, and I had some friends that were from Michigan and they put up a billboard making fun of Ohio State's debacle with their old coach. I was like hey we could do something like that," said Luke Jalbert.

From his home in Amarillo, he reached out to other fellow Aggies on TexAgs.com. In a matter of days, he was able to gather about 100 Texas A&M fans who all donated money to pay for this $2,750 billboard.
KBTX quotes a few anonymous Baylor students who called the billboard "low," "immature," and, yes, "sacrilegious." None of that compares, though, to the warfare discourse Bears fans have evoked elsewhere:
According to the AP, several influential Baylor alumni and University of Texas benefactor B.J. "Red" McCombs took out full-page ads in Texas newspapers Sunday suggesting the Big 12 is "a conference not only worth fighting for, it's worth waging peace for."
Of course, the real way to settle this mess will be with an old-fashioned Texas billboard-out. Your move, Baylor.
Aggies Jab Bears With Waco Billboard [KBTX]
Football billboard makes biblical plea in Waco [CBS]
Photo via @DerekAggie06.