When Sean Leonard and his fiancée, Shannon Moore, attended their first Texas Rangers game last night, they had no idea they would soon create national news for denying to give a foul ball to—and then taunting—a crying boy sitting next to them. Since them, they've been deemed the "worst people ever" and have been the subject of a national controversy over when it's appropriate to keep a foul ball.
Now they're going public, defending themselves against the charge that they purposely ignored the crying boy, who, as WFAA also reports, is doing just fine and smiling again. (The kid also eventually got his well-deserved ball, courtesy of the Rangers' dugout.) WFAA interviewed the couple earlier today in their home, and they strongly denied the idea that anything they did was done out of malice:
Leonard said as a soon-to-be large combined family of seven, that he and Shannon understand the emotions of a young child at a game. They spoke to News 8 Thursday afternoon.

"I love children, I would never hurt someone," Shannon Moore said.

They said it has been difficult being vilified by the now-viral video.
"It's very hurtful, especially when you know you wouldn't intentionally hurt somebody or hurt their feelings," Moore said. "Especially when it's a little-bitty toddler."
The couple, which is getting married this weekend, also wants an apology from YES announcer Michael Kay:
Leonard and Moore would like an apology from Michael Kay, the Yankees play-by-play announcer who insinuated that they were being insensitive to the little boy.

"He took an event and sensationalized it, threw it out there, never checked or validated the facts," Leonard said.
G/O Media may get a commission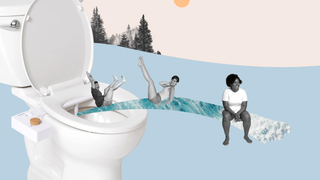 17% off
Tushy 3.0 Warm Water Spa Bidet Attachment
Yeah, good luck with that one.
[WFAA]
Previously: Worst People Ever Catch Foul Ball, Refuse To Give It To A Crying Child, Are Vilified By Michael Kay [UPDATE]