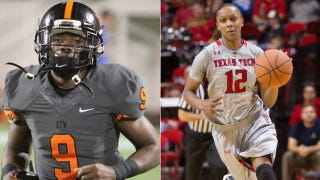 Incoming freshman cornerback Nigel Bethel II was dismissed from the Texas Tech football team yesterday, a day after punching Amber Battle, the Lady Raiders basketball team's leading scorer, in the face during a pickup game. Rec center hoops are serious fucking business.
Citing "a zero tolerance policy on this type of behavior," Texas Tech announced Bethel's dismissal yesterday afternoon and confirmed the Saturday incident, which saw the freshman Bethel strike the senior Battle in the face during a basketball game, breaking a bone and forcing her to undergo surgery.
After the punch, but before his dismissal, Bethel tweeted: "Trouble always seems to find me... " He quickly deleted that.