Clayton Halunen, an attorney for Chris Kluwe, claims that text messages between his client and Vikings kicker Blair Walsh support Kluwe's allegations that Vikings special teams coordinator Mike Priefer created a hostile and homophobic work environment in response to his increased support for same-sex marriage. He also claims the Vikings were aware of the allegations against Priefer before Kluwe went public.
Following Kluwe's revelation here, Walsh released a statement in support of his coach, but never really denied the claims. He said Kluwe's allegations were "reprehensible" and "totally not compatible with what Mike Priefer stands for," but he never denied hearing Mike Priefer say "We should round up all the gays, send them to an island, and then nuke it until it glows."
In a five-hour meeting Friday with investigators, Halunen said Kluwe identified Walsh and long snapper Cullen Loeffler as witnesses to what Priefer allegedly said numerous times in 2012 special teams meetings involving the punter, kicker and long snapper., and that [director of player personnel Les] Pico was told about it after the fact. Halunen noted that Kluwe told investigators he is willing to take a polygraph test.
Halunen further noted that Kluwe retained text messages from Walsh that refer to the things Priefer said, including that "nuke" comment.
Les Pico was allegedly advised of Priefer's conduct in late April/early May of 2013, and did nothing. Halunen therefore claims the Vikings initial comment on the matter on January 2—that "the Vikings were made aware of Chris Kluwe's allegations for the first time today."— was a lie. Vikings owner Zygi Wilf released a statement today, quickly clarifying that ownership was "entirely unaware of Chris Kluwe's allegations prior to the Deadspin article earlier this month.''
G/O Media may get a commission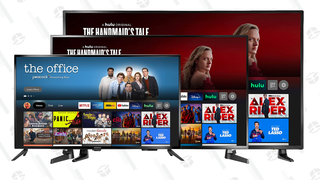 Up to 44% off
Prime Early Access - Insignia Fire TVs
Chris Kluwe's lawyer: Texts support claims; Vikings knew about Priefer allegations last year [Pioneer Press]