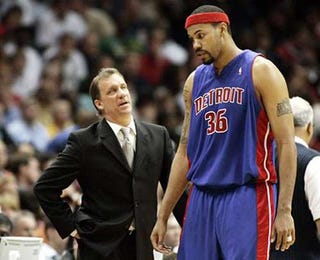 It's strange to think now, but at one point, Flip Saunders was considered some sort of coaching savant. That seems like an awfully long time ago. The Pistons officially let Flip go about half an hour ago, and they're supposedly having a press conference at 2 p.m.
Michael Curry is the top name to take over, though, just for fun, they should see if they can pry Larry Brown away from the Bobcats.
We always thought Flip would be more effective if he just coached the regular season, and someone else took over in the playoffs. Something to think about, as if he's ever getting another coaching gig. Perhaps he and Hillary Clinton will have a weepy late night phone call.