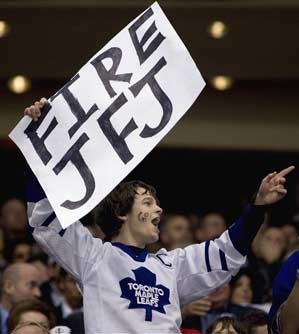 It's the NHL Closer. We pass the mic to the kids at Orland Kurtenblog. Their NHL Closer is written by Canadians for Americans.
Nothing is ever good enough for you, is it? Just a few hours after MLSE president Richard Peddie said he erred in hiring Leafs GM John Ferguson Jr., the Buds did their best to save their beleaguered boss - but failed. Alex Kovalev scored twice in Montreal's 4-3 shootout win over Toronto - yes, the same Canadiens (12-8-3, 5th best in the East) that former Habs great Guy LaFleur called "a bunch of fourth-line players" in a recent interview. Carey Price stopped 43 shots in the win...but what about the three that went in? This is how we roll in Canada, people. Stakes is high.
Mothers, hide your children. Todd Bertuzzi was seen skating unsupervised at GM Place! (Seriously though, put the kids in the panic room) Actually, Big Bert's first game back in Vancouver was anticlimactic as the Canucks beat Anaheim 4-0. Roberto Luongo decided he wanted to be the big story on the night, turning aside 26 shots for his second consecutive shutout. Bertuzzi? He was minus-2 with no points and a missed breakaway, a performance that Canuck fans described as "familiar."
Yeah, you might want to cover that guyl Pavel Datsyuk. He's pretty good. Calgary ignored this bit of advanced scouting and watched in horror as Datsyuk scored two highlight-reel goals in a 5-3 Detroit win at Joe Louis. Mike Keenan further cemented his shoes for a swim in Unemployment Lake, pulling Mikka Kiprusoff after Detroit's third goal. "I guess if it's going to help the team. He (Keenan) wasn't happy how I was playing," Kiprusoff said. Translation: "When the hell are we getting rid of this guy?"