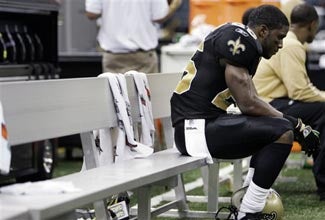 When our heart bleeds today, it bleeds for Balk: The Saints, after their brief moment of excitement and inspiration, appear to suck again. It was fun while it lasted.
Not only are the Saints now 0-3, but they've lost Deuce McAllister for the year and the whole season is beginning to appear lost. (Though we're not exactly scared of anyone else in that division either.) You can't blame the fans; they wouldn't even leave a burning bar, lest they miss any of the pivotal game. But Drew Brees is looking awful, and basically, the Saints look like a team that everyone has figured out. Saints fans were booing last night; those are the Saints we remember!
Meanwhile, Vince Young can apparently throw the ball, and the AFC South looks like the most fascinating division in the NFL. And we've run out of things to say about what was, ultimately, a rather dull game between two teams that, oddly, seemed mismatched.