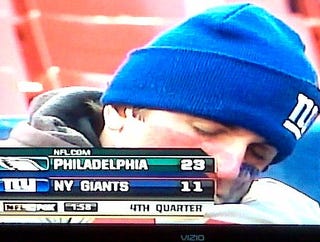 Got an image you'd like to see in here first thing in the morning? Send it to tips@deadspin.com. Subject: Morning crap.
Was it my imagination or were all four games this weekend just sloppy, brutal battles of attrition? Didn't this game used to be smoother, cleaner, more enjoyable to watch? Montana to Rice, Emmitt Smith finding a hole off tackle; wasn't that more fun? No? OK, sorry.
Not that I didn't watch every minute of it. Unlike this guy at Giants Stadium, who preferred his warm fuzzy 2008 dream world to the bitter cold reality of 2009. I have a suspicion we'll be hearing a bit more about the Eagles, Cardinals, Ravens and Steelers over the coming week. So for now, let us salute the losers. Sleep well, my friends. If you wake up and it's totally dark, do not be alarmed; you're merely in a trash bag in a Meadowlands dumpster.
And could someone stand by with a mop? I have a feeling that Carl's head is about to explode.