A ranking, courtesy of our friends at Business Insider.
Agent Casey Close has been a superstar since 2001, when he negotiated a $189-million, 10-year contract for Derek Jeter.
Now Close wants to do one better by securing a final huge contract for the 36-year-old shortstop. The agent has reportedly asked for as much as six years at $25 million per year, while the Yankees aren't budging from a three-year contract at $15 per year.
It's one of the most heated and closely watched negotiations of all-time.
Our list of the top sports agents is based on the total value of their top four current deals.
Close comes in third on our list with a max deal for Jeter, eighth with a minimum deal. Close represents several other big clients, including Ryan Howard. He's also married to Fox News's Gretchen Carlson.
Topping the list by a mile is legendary baseball agent Scott Boras, who negotiated the biggest sports contract ever for Alex Rodriguez.
G/O Media may get a commission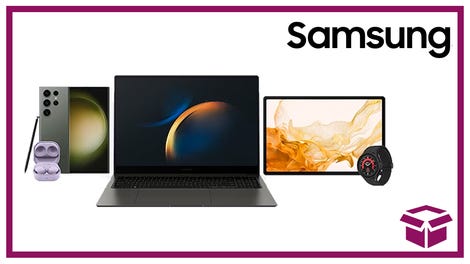 24 hour deals
Discover Samsung - Daily Deal
12.) Joel Segal
Agency: BEST Football
Top current deals:
$70M contract for Will Smith (New Orleans Saints)
$62M contract for Levi Brown (Arizona Cardinals)
$55M contract for DeAngelo Hall (Washington Redskins)
$52.5M contract for Reggie Bush (New Orleans Saints)
Top deals value: $240M
NFL agent Joel Segal made good use of his legal background when his star client, Michael Vick, was caught dog fighting. Miracle work by the Hofstra Law School graduate allowed Vick to keep most of his huge contract with the Atlanta Falcons, spend a bit of time in jail, and then sign a new contract with the Philadelphia Eagles.
Segal could be moving up this list soon as he has three clients — Vick, Randy Moss, and Titans running back Chris Johnson — who are due for big paydays.
11.) Jeff Austin
Agency: Octagon
Top current deals:
$80M contract for Rudy Gay (Memphis Grizzlies)
$68M contract for Chris Paul (New Orleans Hornets)
$47.5M contract for Kirk Hinrich (Chicago Bulls, transferred to Washington Wizards)
$45M contract for David West (New Orleans Hornets)
Top deals value: $241M
Former professional tennis player Jeff Austin heads the basketball division at Octagon, a major international sports sponsorship and representation firm. He works mainly in the NBA, having once represented Moses Malone and David Robinson.
10.) Dan Fegan
Agency: Lagadère Unlimited
Top current deals:
$80M contract for Dwight Howard (Orlando Magic)
$65M contract for Kevin Martin (Sacramento Kings)
$60M contract for Nene (Denver Nuggets)
$50M contract for Anderson Varejao (Cleveland Cavaliers)
Top deals value: $255M
Yale lawyer Dan Fegan has locked down some of the basketball's hottest young talent, including John Wall and Ricky Rubio. He works out of Los Angeles and is said to maintain a complex information network from his mobile phone, preferring to travel without a laptop, according to True Hoop. Fegan says he and his staff all play chess.
9.) Leon Rose
Agency: CAA
Top current deals:
$110M contract for LeBron James (Miami Heat)
$60M contract for Eddy Curry (New York Knicks)
$50M contract for Andrea Bargnani (Toronto Raptors)
$34M contract for Rip Hamilton (Detroit Pistons)
Top deals value: $254M
Longtime NBA agent Rose jumped onto the list this year with a mega contract for James. He may move higher soon as contracts expire for two superstars he recently picked up, Chris Paul and Carmelo Anthony.
Rose took a job at celebrity agency CAA in January.
8.) Casey Close
Agency: CAA
Top current deals:
$45M to $125M contract for Derek Jeter (New York Yankees)
$125M contract for Ryan Howard (Philadelphia Phillies)
$55M contract for Gil Meche (Kansas City Royals)
$33.5M contract for Michael Cuddyer (Minnesota Twins)
Top deals value: $259-329M
Casey Close is best known as Derek Jeter's agent. He is also somewhat famous for being the husband of Fox News's Gretchen Carlson.
In 2007, Close joined the exodus from sports giant IMG to celebrity agency CAA, where he now heads the growing baseball division. His current negotiations between Jeter and Yankees are the most talked about of the offseason.
7.) Dan Lozano
Agency: NA
Top current deals:
$111M contract for Albert Pujols (St. Louis Cardinals)
$80M contract for Michael Young (Texas Rangers)
$46.5M contract for Jimmy Rollins (Philadelphia Phillies)
$31.5M contract for Raul Ibanez (Philadelphia Phillies)
Top deals value: $269M
Lozano struck gold 1993 when an early client, Mike Piazza, was named Rookie of the Year. Things got even better in 1998 when he engineered a record-high MLB contract for Piazza.
The MLB agent started his own firm over the summer, leaving Beverly Hills Sports after 22 years.
6.) Bill Duffy
Agency: BDA Sports Management
Top current deals:
$80M contract for Carmelo Anthony (Denver Nuggets)
$76M contract for Yao Ming (Houston Rockets)
$63M contract for Andris Biedrins (Golden State Warriors)
$55M contract for Rajon Rondo (Boston Celtics)
Top deals value: $274M
Bill Duffy entered the NBA in 1982 and had a short career with the Denver Nuggets. Since then he has had a long career as a top agent. With his company, BDA Sports Management, Duffy represents over 35 NBA players, including a superstar from his old team.
5.) Rob Pelinka
Agency: Landmark Sports Agency
Top current deals:
$83.5M contract for Kobe Bryant (Los Angeles Lakers)
$80M contract for Andre Igoudala (Philadelphia 76ers)
$76M contract for Carlos Boozer (Chicago Bulls)
$57M contract for Gerald Wallace (Charlotte Bobcats)
Top deals value: $297M
The 1993 NCAA Scholar Athlete of the Year is a natural fit for sports agency. Rob Pelinka played in two Final Fours while at the University of Michigan and then went to get his law degree and business degree at U-M. By the time he graduated, Pelinka was friends with several NBA players, like former teammate Chris Webber. He also got a break meeting top agent and U-M graduate Arn Tellem, according to the Ann Arbor News.
Today, Pelinka is one of the top NBA agents, best known for representing the highest-paid NBA player, Kobe Bryant.
4.) Arn Tellem
Agency: WMG Management
Top current deals:
$124M contract for Joe Johnson (Atlanta Hawks)
$85M contract for Chase Utley (Philadelphia Phillies)
$65M contract for LaMarcus Aldridge (Portland Trail Blazers)
$60M contract for Al Horford (Atlanta Hawks)
Top deals value: $334M
Tellem is the only agent on this list to be a leader in multiple sports. Nonetheless — and despite a personality that "combines the intelligence and steadfastness of Alan Dershowitz with the neurotic behavior of Woody Allen" — he strives to maintain a low profile, according to Sports Illustrated.
Tellem is a graduate of the University of Michigan Law School, and he worked in sports litigation for several years at LA-firm Manatt, Phelps & Phillips.
3.) Tom Condon
Agency: CAA
Top current deals:
$99.2M contract for Peyton Manning (Indianapolis Colts)
$97.5M contract for Eli Manning (New York Giants)
$72M contract for Matt Ryan (Atlanta Falcons)
$57.5M contract for Jake Long (Miami Dolphins)
Top deals value: $326M
Tom Condon is an undeniable institution in the NFL. He played for over 10 years on the Kansas City Chiefs and the New England Patriots, and then became president of the NFL Players Association. During off-seasons, he earned a law degree from the University of Baltimore and was representing teammates while still in the league.
Condon uses his deep connections in the league to retain top draft picks year after year. Since 2007, he headed the football division at Hollywood agency CAA.
2.) Fernando Cuza
Agency: SFX Baseball
Top current deals:
$152M contract for Miguel Cabrera (Detroit Tigers)
$136M contract for Alfonso Soriano (Chicago Cubs)
$64.5M contract for David Ortiz (Boston Red Sox)
Requesting a $36M contract for Mariano Rivera (New York Yankees)
Top deals value: $389M if the Yankees agree
Not mentioned on recent agent rankings by The Sports Business Journal and Forbes, Fernando Cuza is a hidden force in the MLB. The Cuban agent has a lockdown on the elite players coming out of Latin America.
Cuza did not attend law school. Instead, he benefited from growing up beside several baseball players and in the same neighborhood as the former trainer of Muhammad Ali, according to USA Today.
1.) Scott Boras
Agency: Boras Corporation
Top current deals:
$275M contract for Alex Rodriguez (New York Yankees)
$180M contract for Mark Teixeira (New York Yankees)
$126M contract for Barry Zito (San Francisco Giants)
$120M contract for Matt Holliday (St. Louis Cardinals)
Top deals value: $701M
The most-hated man in baseball has a golden touch for sealing cripplingly huge contracts, including three of the decade's top deals — A-Rod, A-Rod, and Teixeira.
Boras knows baseball from a excellent college career at University of the Pacific and four years in the minor leagues. He learned all about contracts while earning a law degree at McGeorge School of Law and working at an associate position in the pharmaceutical defense department of Rooks, Pitt & Poust, a position he quickly abandoned after meeting a promising pitching prospect named Tim Belcher.
Who didn't make the list?
Mark Steinberg: Golf agents do not make our list because golfers do not sign team contracts. But they do sign endorsement deals, which makes the agent of Annika Sorenstam, Vijay Singh, and the indomitable Tiger Woods a very influential man.
Drew Rosenhaus: Tom Cruise's character in Jerry Maguire ("Show me the money!") is supposedly based on Rosenhaus. The famously vocal and aggressive agent represented the also vocal and aggressive wide receiver Terrell Owens.
Ron Shapiro: Although semi-retired, Shapiro signed Twins catcher Joe Mauer to a humongous $184 million contract last spring. The legendary baseball agent used to represent Minnesota's Kirby Puckett.
Mark Bartelstein: The boss of Priority Sports and Entertainment, Bartelstein represents NFL and NBA players. His pièce de résistance was an $80 million contract for center David Lee.
Seth Levinson: Seth and brother Sam run Athletes' Career Enhanced and Secured Inc., (A.C.E.S.) a hot agency in Brooklyn. Their clients include David Wright, Jorge Posada, Milton Bradley, and Scott Rolen.
Republished with permission from the Business Insider. Read more of the Business Insider's sports coverage here.