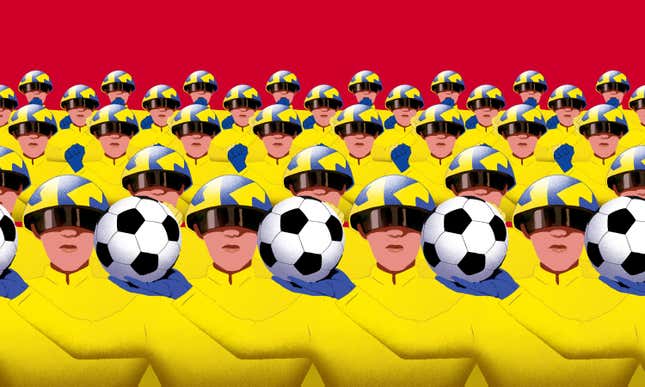 The first leg of the 1994 UEFA Cup Winners' Cup semi-final between Arsenal and Paris Saint-Germain at the Parc Des Princes was rife with the tensions of early '90s provincial fandom. "The Boulogne Boys [PSG's right-wing hooligan supporters] were looking for Arsenal fans to attack in the build-up to the game," recalls London-based Arsenal supporter Kevin Whitcher, who was in attendance that night. "It was chaos."

Is Texas or Florida State a bigger national title contender? | Agree to Disagree
At halftime, Arsenal led 1-0 on an Ian Wright header. The stadium DJ played the Pet Shop Boys' version of "Go West," which had risen to No. 2 on the charts the previous year, and the PSG fans, led by the Boulogne Boys, started chanting "Allez, Paris Saint-Germain" along with the chorus. The Arsenal fans cheekily improvised their own version of the chant, one that reflected the scoreline—"One-nillll, to the Arsenal."
PSG leveled the game in the second half and it ended in a draw, but the song stuck. "It was an easy chant to catch onto and spread like wildfire among the traveling support," says Whitcher. "It caught on at the return leg at Highbury [1-0 to Arsenal] and the final in Copenhagen [also 1-0 to Arsenal], so it was helped by the results in those matches." Today it is still one of Arsenal supporters' best known cheers, while supporters groups across the world sing their own chants to the tune of "Go West," and variations on the melody even played official roles at two World Cups. It's safe to say that earworm of a melody is one of the most iconic anthems in all of sport. But to understand how all this came to pass, we have to go back 300 years.
---
In 1680, German composer Johann Pachelbel wrote a three-part classical arrangement for violin, in a waltz-like style called a gigue. Titled "Canon in D," its catchy and evocative melody was popular at the time amongst European nobility, but like much of Pachelbel's work and the entire genre of baroque, it fell out of style shortly after his death, and was mostly forgotten.
Almost two centuries later and across the Atlantic Ocean, the phrase "Go west, young man" entered popular consciousness, likely due to New York Tribune editor and Republican party founder Horace Greeley, a supporter of American expansion and the idea of Manifest Destiny. It was a rallying cry meant to inspire enterprising young men to journey to the western edges of American territory and pioneer a new life in the countryside.
Skip ahead another century, to 1968, and a French composer named Jean-Francois Paillard rescued Pachelbel's "Canon" from total obscurity, recording a version that became a pop-classical crossover hit. It got radio airplay all over the U.S., but particularly in San Francisco, where a classical radio station was the first to pick up the tune. There, it was likely heard by two young, gay, aspiring composers of Moroccan-French descent named Jacques Morali and Henri Belolo. A few years later in Greenwich Village, Morali and Belolo conceived their master plan: The Cop, Native American, Construction Worker, Soldier, Cowboy, and the Leatherman, known best to the world as The Village People. The disco quintet were an immediate hit in the swingin' '70s thanks to their saccharine pop tunes with sing-a-long choruses, laden with hyper-masculine themes and innuendo about gay sex.
In 1979, The Village People released their fourth album. Titled Go West, it was their biggest hit yet. The title track borrowed liberally from the melody of Pachelbel's "Canon" and re-appropriated Horace Greeley's century-old exhortation of "Go West," altering the meaning to reference San Francisco as a liberal, gay utopia in a new age of personal freedom. Although the track got some play in the influential gay disco circuit, it took a backseat to the album's bigger hit: "In The Navy." The Village People continued to release prolifically until they broke up in 1985, having lapsed into kitschy memory.
By 1993, Pet Shop Boys, the UK synthpop duo of Neil Tennant and Chris Lowe, had been worldwide stars for over a decade. When they were asked to record a cover song for an HIV/AIDS benefit concert at the fabled Hacienda nightclub in Manchester, Lowe thought of The Village People's forgotten ditty. "He played it to me and I said, 'This is ghastly,'" recalled Neil Tennant in an interview in 2009. "I thought it was ghastly beyond belief. Awful. Chris just carried on regardless…He enticed me into it by pointing out that it was the same chord change as Pachelbel's Canon. And that indeed worked." Tennant was piqued by the potential for multi-layered meaning in the lyrics and video.
"This song is about an idealistic gay utopia," said Lowe. "I knew that the way Neil would sing it would make it sound hopeless—you've got these inspiring lyrics but it sounds like it is never going to be achieved." Noting the similarity of the song's melody to the Soviet National Anthem, the Pet Shop Boys wrote the lyrics of their version of "Go West" to reference the fall of the USSR, a theme emphasized in the song's music video.
Directed by Howard Greenhalgh and utilizing rudimentary CGI, the "Go West" video features greased-up hunks in Soviet caps holding Red Star flags as Chris Lowe glides across the sky of a futuristic metropolis on a surfboard. Although this was all meant as a cheeky double entendre, the video's uplifting chorus and imagery depicting the fall of the USSR was taken literally by much of the public, particularly in non-English speaking countries, where it took on a second life as an anthem of populist democracy at the end of the Cold War. It was a massive hit and reached the Top 10 in 16 European countries, has been licensed countless times, and spawned scores of remixes and covers.
It isn't too surprising that the Parc Des Princes stadium DJ would play "Go West"—popular across Europe in 1994—at halftime against Arsenal, but nobody could predict the song would become a staple of world soccer. Phil Wall––an Arsenal historian who first traced the song back to its Parisian origin––notes that the legend of "Go West" owes as much to Arsenal manager George Graham's particularly defensive tactics as anything else. "If those games hadn't finished 1-0 it might well have been forgotten, because in those days new chants were invented far more often than they are now––at Arsenal anyway," he says. "And then 1-0 did seem to become a common scoreline for Arsenal at the time."
Arsenal went on to take the Cup Winners' Cup that year, and the tune became firmly entrenched in their songbook. Copycat chants popped up all over Europe. In Germany, Borussia Dortmund began singing their now-famous version, "Olé, jetzt kommt der BVB." West Bromwich Albion's rendition had a much simpler title: "Go West Bromwich Albion." FC Schalke in Germany popularized a version that translates to "Stand Up! If you're a Schalke Fan," which is the particular iteration that has been jocked by uncreative fan groups all over Europe ever since.
The most ubiquitous version of the chant at football league matches in the UK might also be the most banal––"You're shit, and you know you are."
In 1994, Madchester-influenced The Farm released "All Together Now," taking Pachelbel's Canon and, according to Farm press materials, infusing it with their favorite themes: "socialism, brotherhood, and football." It was a hit and became a key node in the wave of pop-infused nationalism in the UK known as "Cool Britannia." The band performed it in front of the legendary Kop at Anfield prior to the Merseyside derby against Everton in 1994, the final Merseyside derby before the stand was remodeled as an all-seater due to safety regulations. Everton licensed the tune as its "official song" during its run to the 1995 FA Cup Final, as did the England national team in the Euro Cup in 1996.
As Pachelbel, the Pet Shop Boys, and the British footballing public were becoming forever intertwined, football fan culture was morphing from a variety of individual, unique provincial flavors into an international, more homogenous glob of consumers thanks to the creation of the newly televised Premier League. As the melody spread from terrace to terrace, heard through the television, "Go West" took on a meme-like quality as each set of supporters put their own twist on it and shared their version.
The 1990s also saw Pachelbel's chord progression appropriated by countless artists with drastic stylistic variation-–punk-rock, hip-hop, electronica, pop. Green Day's "Basket Case," Coolio's "I'll C U When U Get There," Oasis's "Don't Look Back in Anger," Spiritualized's "Ladies and Gentlemen We Are Floating in Space," and Vitamin C's "Graduation" all use nearly the exact same progression.
Played in D, as did Pachelbel's, it goes D major, A major, B minor, F# minor, G major, D major, G major and A major. Some, like "I'll C U When U Get There" and "Graduation," were direct samples, while others were undoubtedly the result of a Pavlovian earworm. Part of the reason it dug so deeply into the football fan's psyche is because the melody was downright inescapable in the 1990s.
As with most things, it endured in soccer longer than it did on the pop charts. "Go West" was adopted as a communal anthem during the 2002 World Cup in Korea and Japan, where it was sung by home fans as a welcoming gesture to westerners. Korean rock band Pia did their own version, a rallying cry for Korean fans titled "Red Devils," and performed it in front of a packed stadium of jubilant fans during the World Cup. The chord progression, although slightly altered, was appropriated and used in the "Dynamic Korea" tourism advertising campaign. The tune was again, reworked for the 2006 World Cup in Germany by Euro-pop star Patrizio Buanne.
---
The staying power of "Go West," is, of course, the staying power of "Canon in D." Pachelbel's melody has lived so many lives over its 300-plus year history because there's something nostalgic and emotionally grandiose about the chord progression––that's why it works in every voicing from classical to disco, punk rock to hip-hop, and the acapella baying of soccer hooligans. The lower-register notes and easy, memorable, call-and-response cadence of "Go West" make it functionally perfect for the modern terraces. The post-Soviet styled Pet Shop Boys version of the song was associated with globalization, freedom, modernity, and joy as Europe rapidly democratized in the early 1990s. Its status as a song of celebration across Europe made it a perfect choice for communal sing-a-longs, and its globalist message spoke to people all over the world.

But a music-theory-and-globalization explanation doesn't fully account for how a gay anthem became popular in stadiums across the world, with often-conservative supporters' groups, ultras, and hooligans spending decades arm-in-arm singing versions of a song written about a homosexual utopia and man-on-man love. And "Go West" isn't the only gay anthem liable to be heard in stadiums: songs by The Village People and Queen also remain in heavy rotation.
The connection between gay anthems and sports culture has been the subject of academic study. In Ken McLeod's book We Are the Champions: The Politics of Sports and Popular Music, he writes, "The popularity of hypermasculinized sports anthems would seem simultaneously to celebrate masculine power and performance while also permitting an open communal expression of bodily participation." What he means is that gay anthems like "Go West" are written and performed by dudes, for dudes, and are about how awesome dudes are. The music crosses over into sports stadiums quite easily.
"The sports arena, like a theatrical stage, allows for a general carnivalesque inversion, or masking, of normative behavior," says McLeod. "It's both okay to be hyper-violent and aggressive, but also to show same-sex affection. Fans, at least in part, are attracted to the spectacle of such behaviors that they themselves are not ordinarily socially allowed to engage in." Sports are where Western males go to act out homosociality––to be "with the guys," to express love for one another, and to appreciate the physicality of other men. So I asked McLeod if it could be argued that not much separates male-dominated sports and gay nightclub culture besides the fucking?
He wouldn't go that far. "I would say it's more of a function of the liberatory hypermasculinity that gets celebrated in gay anthems in the first place. The majority of heterosexual sports fans then, without really considering the potential homosexual content of the songs, adopt them, often unquestioningly, as worthy celebrations of athletic prowess. I think, however, that in the end these anthems serve the same function of liberatory release and celebration—whether in the context of gay or heterosexual sports fan communities."
Homosociality is not the same as homosexuality—but the two share many of the same traits. That's why the campy, hyper-masculine themes in gay anthems appear so frequently and effortlessly in sports. It is undeniable that soccer fandom in Europe has been a historically homophobic space, but with all of this in mind, that homophobia may actually be one of the only straight things about the whole social space.
Sometimes when you pull on a cultural thread, it unravels on the other side of the world in a wholly different era. That's how one baroque melody connects everything from Manifest Destiny to the gay utopia of 1970s San Francisco to the fall of the Soviet Union to soccer fans around the world, with a score of hit pop songs sprinkled in for good measure. "Who would have thought that an obscure Village People song covered by the Pet Shop Boys would become the song of football?" Neil Tennant once mused. "It's fantastic ... I think it's our greatest achievement."