Antarctica is mostly known as a snowy wasteland, an island at the bottom of the world with nothing but ice and the odd penguin here and there. While it is covered in a few kilometers of ice, there is a continent underneath it all, and a rather mountainous one at that. Where there are mountains, there will inevitably be climbers, and a group of Americans recently returned from an expedition where they tackled a group of some of Antarctica's more difficult peaks.

Anna Pfaff, Savannah Cummins, Jimmy Chin, Conrad Anker, Cedar Wright, cameraman Pablo Durana, and Alex Honnold—famous for free-soloing El Capitan last summer—traveled to the Drygalski Mountains in late November to climb all six peaks of a horseshoe known as the "Wolf's Jaw." The six separate teeth are actually part of a cirque (a glacially carved amphitheater in the side of a mountain) and while they've each been climbed before, no expedition had ever taken all six on at once. They were only discovered in the 1990s, after all. The climbers pioneered several new routes and finished what sounds like a harrowing odyssey to summit every granite peak. Their feat is the subject of a forthcoming North Face documentary, and the explorers have recently started speaking publicly about their trip.
Climbing new routes is hard enough, but doing so in subzero temperatures presents a new set of challenges. Pfaff wrote that she could only climb without gloves for a few minutes at a time and only in perfect conditions. Wright said that transitioning from ski boots to rock shoes was arduous and that it made everything a bit more difficult than it normally would be. Merely getting to their base camp was a slog, as the team was forced to wait in South Africa for a storm to pass, then wait again for a few days at Novo Station (a Russian outpost). After the storm passed, they boarded a small propeller plane from the 1960s, which took them the rest of the way to Queen Maud Land.
The climbers split into three teams of two, and between the six of them, they charted several new routes. According to a National Geographic dispatch, the granite was crumbly, full of overhangs, and icy, all of which make it treacherous terrain. Look at these goddamn mountains.
G/O Media may get a commission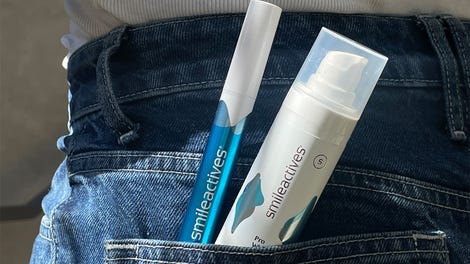 58% off
Whitening Powerhouse Pen & Gel Duo
True to form, Honnold got some soloing in.
Wright has posted several stories about the expedition, including this terrifying account where he, Pfaff, Cummins, and Honnold got stuck trying to climb off of one of the mountains.
On this day Alex and I each lead the huge "Skywalk" route to the summit in a single pitch with @pfaff_anna simul climbing behind me, and Sav following Alex. Alex pulled ahead of me as expected, but I was quick on his heals… climbing along next to Savannah… at one point I watched the rope run tight and for a second Sav was literally being drug up a snow slope! The climb started with a 600 foot horizontal knife edge sidewalk with a over a thousand feet of air on either side. I tiptoed across the ridge weaving my rope around horns and flakes for protection. I had heard there were bolts on this route, but we were disappointed to find only two, and even more disappointed to find that there were no rappel anchors in place! Did the anchors blow off the wall, or did the first ascent part rappel a different face? I'm still not sure. At the summit we decided that the fastest and "safest" way to descend was to downclimb. I could tell by the look on their faces that Anna and Savannah thought we were nuts, but, they reluctantly went along with the plan. The ladies would toprope down a section, and then we would solo down to meet them! Things went from unorthodox to outrageous, when we finally got to a section where a rappel was necessary, but the only anchor we could find was a loose flake. I climbed down the pitch, and secured the rope at the bottom. Alex wedged himself in an icy cave, slung the loose flake, and then Anna and Savannah rappelled off his body. "You might want to look away for a minute," Alex advised as he downsoloed to us at the end of the sketchiest part of the descent. Hours later when we were finally back in our tents, I breathed a massive sigh of relief. I can only assume that Anna and Savannah think that Alex and I are a little sketch
Anker was the senior member of the team; 20 years earlier, he went on a similar expedition to the region with Jon Krakauer and legendary climber Alex Lowe. He was part of a delegation that went on CBS This Morning today to talk about the adventure, and he said that even though he suffered an altitude-induced heart attack last year while trying to summit an unclimbed peak in Nepal, he was driven to go back by a need for exploration.
"Exploration is this quest for knowledge. Humans have been driven by it, and that's why we're the dominant species on this planet. It's been, 'What's on the other side of the river? The other side of the oceans?'"