Two seasons died in Miami on Sunday. One of them belonged to the Dolphins, a team that at the moment holds the AFC's final wild card berth, but which will have to trudge forward, fatally wounded, without starting quarterback Ryan Tannehill. The other season that croaked was Arizona's, which dropped its seventh game of the season and will now need a cataclysm of historic proportions to reach the playoffs.
NFL fans are familiar with the Super Bowl hangover season, and with the Panthers submarining themselves by sleepwalking through the first half of their schedule and the Broncos needing to claw their way back into the postseason, this year has provided two very good cases studies. The funny thing about the Cardinals is that it feels appropriate to group them in with those two teams despite the fact that, you know, they didn't actually make the Super Bowl. But their complete meltdown against the Panthers in the NFC title game last January was the sort of dramatic exposure on a big stage that we associate with a franchise-crippling Super Bowl loss, and everything that has happened this season suggests that the Cardinals still haven't recovered from the 49-15 beatdown laid on them by Cam Newton and friends.

Arizona's 2016 season started inauspiciously enough, with a narrow loss to the (Tom Brady-less) Patriots and an easy win over the Bucs. But things went way off the rails in a Week 3 blowout in Buffalo, a game in which Arizona's offense was completely neutered by a Bills defense that had just gotten steamrolled by Ryan Fitzpatrick and the Jets a week prior (remember that one?). For the Cardinals offense, each game this year has more or less been a grim replaying of that afternoon in Buffalo, when Carson Palmer failed to hit the 300-yard mark despite throwing 50 passes and was also intercepted four times.
After a borderline MVP campaign last season, Palmer has been the triangulation point of bad pro quarterbacking in 2016. He's been inefficient and unable to stretch the field vertically, while also handing out interceptions like they're for a good cause. Palmer's stats have dropped off dramatically everywhere you look. His 60 percent completion percentage situates him in the bottom third of the league, and he'll enter next week having already thrown two more interceptions (13) than he did all of last year, but with 15 fewer touchdowns. His yards per attempt (6.85) has been shaved by two, and is now nearly identical to that of Sam Bradford and Case Keenum. I have very little idea what exactly traditional quarterback rating and QBR mean, but I think it's safe to assume that it's bad that both of Palmer's numbers in those categories are down 20 points from last season. This year has seen some really bad quarterbacking—Jared Goff, Blake Bortles, Brock Osweiler, etc.—and though Palmer has not, like those guys, looked like someone asked to play football as some sort of science experiment, he hasn't been all that much better.
Of course, it's rarely ever just the quarterback's fault. Bruce Arians came to Arizona and immediately imprinted a wayward franchise with an offensive identity founded on launching the ball very far down the field as much as possible. Last year, Palmer led the NFL in yards per attempt and completion, and even in 2014, when Palmer played in only six games, Drew Stanton was second in the league in yards per completion while replacing him. With Larry Fitzgerald operating as one of the best chain-movers in the league, Palmer was consistently able to find John Brown and Michael Floyd running clear of the defense. Both averaged over 15 yards per catch last year while together putting up nearly 1,900 yards receiving, which makes their 2016 seasons seem almost impossibly bad.
G/O Media may get a commission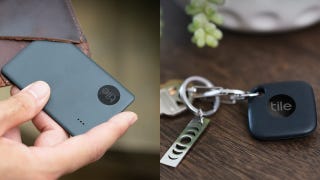 Up to 35% off
Tile Item Trackers
This year Brown and Floyd are combining—combining—for roughly five catches and 67 yards per game. The decline in Brown's play, at least, is understandable. In October, a blood test revealed that he carries the sickle-cell trait, which has been causing him leg pain that dates back to last season. Brown has played in all but one game this year but clearly hasn't been himself, and his health may be wearing on him as the season finishes—in the last four weeks he's been targeted just four times, catching only one pass. The cratering of Floyd's production has been harder to explain, except for whatever domino effect has been created by Brown's ineffectiveness. This is a contract year for the one-time No. 13 overall pick, and something tells me he probably isn't going to get paid:
Early Monday morning, just hours after the team returned home from Miami, Floyd was popped for a DUI after falling asleep at the wheel while stopped at an intersection. It's easily the most notable thing he's done this year.
Arizona's offensive line has also been pillaged by injuries—against the Dolphins, guard John Wetzel was forced to play left tackle, and replacement right tackle Ulrick John was routinely manhandled by Cameron Wake—and Palmer, who moves around like an old clown on stilts, is not the sort of quarterback who can routinely evade oncoming pass rushes. The result of all this is that the Cardinals are squandering not just another good year from their star-studded defense, but also a season in which routinely heroic running back David Johnson looks all set to blow past 2,000 total yards.
What's worse is that the Cardinals probably can't just wash their hands of 2016, overhaul the roster a bit, and go into 2017 with renewed optimism. Calais Campbell and Chandler Jones, their two best players in the front seven, are unrestricted free agents after this season. Palmer, going into his age-37 season, would count as somewhere between $10 million and $13 million in dead money against the cap if he was cut. Arizona will have some cap room to play with, but it seems like they will have to make a choice between one of two options. They can re-sign Campbell and Jones (or bring in new players of their caliber), retain Palmer, and hope next year just goes a little better. Or they can let those two walk, jettison Palmer, eat his cap hit, find a new quarterback, and tweak the roster on the margins.
Ignoring the realities of this season does not seem prudent, but a full teardown would be painful given the expectations of this season, and a quasi-rebuild (say, trading for Tony Romo) may not lead to anything more than what we've seen this year. Plus, neither of those scenarios necessarily addresses the mangled offensive line or suddenly empty receiving corps that has also contributed to the team's busted passing attack. To put it another way, I don't think anyone in Seattle is losing sleep over which path Arizona may choose.