The Division Series in the American League started their California vacation yesterday, kicking off in Dodger Stadium with the Astros and the Athletics. Watching two teams, who don't call Chavez Ravine home, play there was weird, and the urge to ask everyone if they'd gotten lost permeated throughout. It started to feel familiar when the Astros started bashing the ball all over that particular field. Reminiscent of something. When it was all said and done the Astros had gone to town on Oakland's pitching staff to the tune of a 10-5 win, but of course the Astros can't do anything these days without exposing their ass to sunlight. Step up, Lance McCullers Jr.:

There isn't a syllable of this that isn't laughable. Justin Verlander's, Zack Greinke's, Alex Bregman's and Jose Altuve's contracts would certainly never combine with "miserly" in a sentence. And those who aren't getting paid yet only aren't because of baseball's oppressive rules about how long it takes players to cash in. You can be sure that Carlos Correa and George Springer will be cashing checks with a lot of commas soon enough. Which is also the reason the Astros were rumored to be shopping Springer heavily in the winter. And even before all of them get paid, a few of them were first-round picks and carried names even before they'd played a major league game.
But this is the thing with the Astros, and really the defense of every entitled scumbag caught doing whatever they shouldn't have been these days. It's always YOUR fault for not seeing what they really are, for being hung up on their crimes or mistakes. They're the victims of scrutiny, hence making them the real victims, no matter how much they have to fudge the truth to make it so in their minds. The Astros know they were caught, and are pissed off that everyone is skeptical of their actual abilities. What they don't recognize is that they did that to themselves. It's our fault for making such a big deal out of it and our fault for wondering if they could be as good without the giant flashcards in centerfield or the fireworks from the dugout, not theirs for cheating.
The whole idea of a "revenge tour" on a faceless and only vaguely described enemy, one that basically involves the Astros pointing in the general direction of everything, is just about the most unoriginal raison d'etre going in sports. It's the natural evolution of "No one believed in us!"
G/O Media may get a commission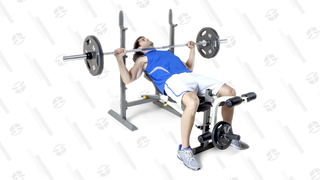 10% Off
Marcy Folding Weight Bench
It's even more hilarious when the Astros are facing the A's, a team that has exactly two players making over $10M and has a long history of being the team with no names and no money and no stars that has to find an original way to win.
Self-awareness isn't a rich commodity in sports, and it seems to have evaporated in Houston completely.
---
Anyway, the Astros got a look at seven of Oakland's relievers after Chriss Bassitt couldn't get an out in the 5th, which sets them up nicely as they still have their best starter in Greinke waiting to go. The A's can bring all these guys back tomorrow if they need, but it's after that there could be trouble. Sean Manaea, Jesús Luzardo, and Mike Fiers aren't known for getting innings, the A's will have to pick and choose who can go two days in row and three after that.

This might also be the advantage the Yankees got by tearing their Game 1 open late for a 9-3 victory in San Diego. They didn't have to go to Aroldis Chapman at all, and only one reliever from their A1 club, Zack Britton, was used last night and for just one inning. The Yanks' pen will need the rest, because they have now used their lone starter who is likely to get to the sixth in Gerrit Cole, whereas the Rays still have Tyler Glasnow and Charlie Morton. The effect of having no off-days was seen in the 9th, when the Rays had to stick with John Curtiss, even though he was essentially throwing rib tips to the plate. In a normal playoff schedule they probably would have pulled him quickly to keep the game close. Here, they couldn't, and Giancarlo Stanton hit one to the Hotel Coronado to end the contest.
---
The Patriots brought their traveling COVID show to Kansas City, where they haven't yet had more positive tests beyond Cam Newton but of course it'll be a few days after the passengers of Air Force Corona would test positive anyway. Their quarterbacks played as if they had caught leprosy on the way instead, even as they kept the Chiefs' usual Vegas fountain show relatively quiet most of the night in a 26-10 K.C. win.

The other aspect the NFL will be watching while biting their nails down to the quick is if the Pats start showing positives later in the week, will the Chiefs as well? They dodged a bullet, through luck more than design, when the infected Titans didn't pass anything on to the Vikings. How many times the league can dance that tightrope is a question that's sadly and infuriatingly going to be answered with people's health and lives in the balance.