Saturday saw the long-delayed, long-awaited spring training debut of Astros prospect Japhet Amador. At a listed 6'4", 315 pounds, should "el Gigante de Mulegé" make the club, he could very well be the heaviest major leaguer ever.
The 27-year-old 1B/DH spent seven seasons in the Mexican League before Houston purchased his rights last summer. As you might expect, he's a power hitter—in 104 games last year, he slugged 36 homers and knocked in 121 runs while batting a not-too-shabby 368. To put those numbers in a bit of context, the Mexican League is considered AAA-level—but more slanted toward offense than MLB affiliates.
In the Arizona Fall League (where the video above was taken), Amador struggled a bit, hitting .284 with four homers in 67 at-bats. He also struck out 17 times and walked once—the Astros know exactly what sort of player they're getting, and it's not one that's quite MLB-ready yet.
But here's hoping Amador one day gets the call-up, because him just making a roster could set a major league record. Amador is big, obviously. But how big? He weighed in at 330 last year, and those who have seen him think his 315-pound listing is a little generous. Let's go to the evidence! Here, he towers over his teammates—including Carlos Corporan, whom the Astros list at 6'2", 230.
G/O Media may get a commission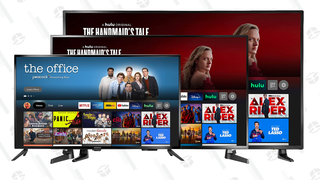 Up to 44% off
Prime Early Access - Insignia Fire TVs
And here we see that much of Amador's weight isn't exactly muscle, so it's safe to assume he has room to grow.
Even if Amador actually weighs 315 pounds, that puts him at far right of the bell curve that is historical major leaguers by weight. But who is actually the heaviest? It's not an easy answer, because actual weights and officially listed weights can be two very different things.
The 6'7" CC Sabathia, before he got skinny, maxed out on the official list at 295 pounds, but that seems comically off. Jonathan Broxton hit 295 as well, though unofficial sources had him tipping the scales at 310. Dmitri Young, at just 6'2", also registered at 295, which makes me think teams are loathe to admit they have any 300-pounders on staff. (For those wondering, Bartolo Colon is listed at just 265 pounds, which is a lie, but he's only 5'11", so he's not a serious challenger.)
If we restrict ourselves to officially listed weights, Amador would tie for first. The current record-holder is one Walter Young, who played 14 games for the Orioles in 2005. Like Amador, Young was officially listed at 315, but, like Amador, he was probably a few more.
Amador is expected to start the season in AAA Oklahoma City. Let's hope he learns how to take a pitch, because minor league bus travel wasn't built for his body type.