The Athletic poached a basketball writer from Cleveland.com, prompting the site's Editor-In-Chief to send a since-leaked internal emailing shitting on The Athletic, prompting the editor from a rival Cleveland site, Clevescene.com, to write a post shitting on Cleveland.com, prompting me to slurp up all the drama and regurgitate it out for you in this here blog.
Jokic? Embiid? The NBA MVP is obvious... right? | Keep it a Buck(et)
Joe Vardon, previously of Cleveland.com, announced today he was joining The Athletic, along with a slew of other basketball writers. Shortly after, Vince Grzegorek of the weekly alternative, Clevescene.com, published an internal email that Vardon's old boss at Cleveland.com, Editor-In-Chief Chris Quinn, had sent to staff on Sept. 15, presumably after Vardon had made his decision to leave for a new job. The email read:
I want to say a word about The Athletic, which suddenly seems frantic to raid our staff because of its inability to groom talented sportswriters on its own. Most of you know Joe Vardon is headed there, and they do not appear to be finished in their recruiting efforts.

This has the feeling of desperation to me. As I've mentioned since this thing started, it's financial model is not sound. In the print days, the Daily tried it. In the digital era, Patch tried it. Each time someone tries it, an investor kicks in a huge amount of money to get the thing launched but because the financial model is so unsound, it always fails. If you could sustain an experienced staff on digital subscription revenue alone, we'd have gone that way a long time ago. To produce the kind of content we produce takes more than digital subscribers.

But suddenly, across the nation, the Athletic seems intent on raiding the top sports reporting staffs of each major city. This has the feeling of a last-ditch effort at survival, a strategy to try to savage the reigning sports voice quickly and try to steers fans to their site. Again, I feel certain the effort will fail. We not only lead the region in sports audience, but we continue to grow it. No one is knocking on our door. And, frankly, the Athletic is pretty awful. The writing is bloated, seemingly unedited wheezing, not at all what our sports audience has made clear it wants.

As the Athletic makes this sprint to hire away the best sportswriters in the land, I worry about how lives will be affected. Their recruiting effort is rushed. You get a couple of days to decide and then the offer is gone. The pressure is intense. Think about that. What responsible employer does that? When we recruit, we give people all the time they need to work out the details and consider how a job change might affect their lives and their families. Our intention is to build a lasting relationship, and you don't do that with a breathless offer that forces people into a corner. Doing what the Athletic does is desperate and uncaring.

I say all this because I suspect the onslaught will continue. If you get one of these limited-time offers, please take the time to talk with the folks here before making a rash decision. If they go under, a lot of veteran sports writers will be out of jobs in a suddenly glutted market. I'd hate for someone on our team to be one of them.

Chris
Grzegorek published Quinn's email under the headline "Cleveland.com Editor Chris Quinn Sends Angry, Rambling Internal Email After the Athletic Poaches Cavs Beat Writer," and sent a few burns along as company:
1) Joe Vardon was still on staff when this email was sent. Imagine giving four years of your professional life to an organization and then getting an email from your boss that essentially calls you an idiot for making a decision that you think is the best for you and your family.

2) For anyone at Cleveland.com to point to another site and complain that it is poorly edited is a level of hilarity that can't even be accurately measured.

3) "What our audience really wants is not reported features but Facebook live videos filmed from the living room of one of our social media guys," is a weird argument to stand on.

4) If anywhere in that email to his employees does Quinn even begin to address the reasons why an offer from The Athletic might be very attractive compared to remaining at Cleveland.com, and what they might do in the future to make sure those offers aren't as attractive, we missed it.

5) "This has the feeling of desperation to me." Yes, indeed.
Spicy! Though Grzegorek takes aim at Cleveland.com, he doesn't refute any of what Quinn actually said about The Athletic, most of which was accurate. It's true that The Athletic doesn't "groom talented sportswriters on its own," preferring to "[raid] the top sports reporting staffs of each major city." Though this is more a function of The Athletic's brutal business strategy than evidence of "desperation," as Quinn said, The Athletic, so far, doesn't seem too concerned with teaching and building young writers. It's also true that there are serious questions about The Athletic's business model, which is largely reliant on venture capital funding.
Quinn also said in his email that The Athletic's "recruiting effort is rushed. You get a couple of days to decide and then the offer is gone. The pressure is intense." He says this is "desperate and uncaring." The Athletic co-founder Adam Hansmann had this to say when asked for a response:
"Our hiring process involves weeks, months, or even years of ongoing conversations with prospective staff. The notion that we are not diligent with respect to staff recruitment or that we do not give candidates ample time to evaluate us as an employer is simply not accurate."
G/O Media may get a commission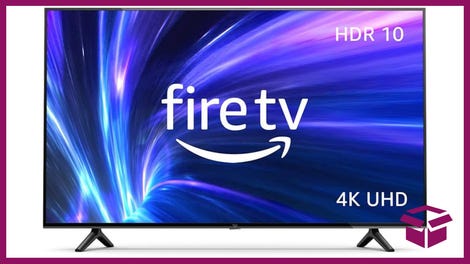 42% Off
Amazon Fire TV 50" 4K Smart TV
Now we can only hope that The Athletic will choose to take this media beef to the next level, and have Joe Posnanski publish "Cleveland.com And Clevescene.com Can Eat My Butt."