Julia Alvidrez, Gawker Media's operations manager, is an unabashed fan of Bill Simmons and everything Grantland. She is also an occasional reader of Deadspin. Every week, she will recap Simmons's podcast, The B.S. Report, for us.
Hello and welcome back to The B.S. Report Report. I'm a little underwhelmed with the quantity of podcasts this week. I tried to supplement my addiction with clips from Grantland's YouTube channel. The result is that I now like Jacoby more and JackO less and Flea even less still!
Malcolm Gladwell pops his podcast cherry this week as he joins Bill to discuss 30 for 30 episode 2, 9.79*. It's about running. I'm almost certain I can hear Gladwell pushing his glasses up on his nose when he starts to sweat from excitement discussing the Jamaican high school track championships. It's pervier than Bill calling girls volleyball the most entertaining kids sport to watch. Bill and Gladwell move on to more serious subjects including doping and they try to draw the line between right and wrong. A lot of hard-hitting questions here. Can you really measure testosterone? I think all medical science should be fair game in professional sports. Imagine if you could take whatever drugs you wanted to, make any modifications to your body, and just go out there and score 5,000 touchdowns. The entertainment factor would be on par with a monster-truck rally. Think of the carnage! And, to keep moral reasoning at bay, let's make it so that as a professional athlete you have to disclose any dope you take and any modifications you've made to your body. The graphics guy could flash your regimen on the screen when you introduce yourself. Let's remove the stigma. Then there would be these purist athletes that would rise up and declare themselves clean! Athletes would have to be more strategic. If you can't beat your opponent physically, all you have left is your brain. Boy, this is not going to be easy. With everyone all jacked-up all the time injuries will be off the charts, we would see a lot more total blowouts, and players would feel peer-pressured to give into the flavor of the week. But I see only positives here. There's a lot of publicity potential and a lot of money to be made. I say the sooner someone can upgrade their blood or get a gorilla sweat transfusion, the better.
On Monday Bill gives Cousin Sal a call to discuss the Week 6 lines. The usual line-picking ensues. The guys are very excited for a unique parlay that links the WNBA and the Texans-Jets game. Listen in for this week's Sports Guy moment of the week!
Lynx win! Texans win!
Sports Guy's wife looks up from checking her email to draw a likeness between Sean Payton and Bill. What do you think?
G/O Media may get a commission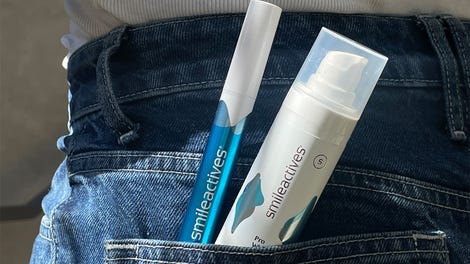 58% off
Whitening Powerhouse Pen & Gel Duo
We end this week in BS discussing basketball with the newest edition to the Grantland team, Zach Lowe. I fell asleep mid-Google but he seems nice. JackO is sick, and this is the second Thursday in a row he's been out of work. I'm getting worried. If there are only three podcasts next week, I'll spend my free time making get well soon cards. That's a threat.