Carolina Hurricanes prospect Sergey Tolchinsky is, at least for the time being, playing in the Ontario Hockey League for the Sault Ste. Marie Greyhounds. We say "for the time being" because, well, did you see that shot?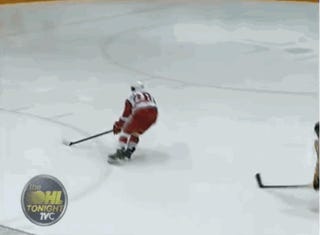 Tolchinsky pulled this move out last night against the Sarnia Sting as the Sting were making a change. Tolchinsky races after the puck from mid-ice, gets himself a breakaway shot, and does not disappoint.
I had to watch it a dozen times—"had to"—just to do the mental gymnastics to properly describe it, but I think it is a half-spin-o-rama, with a behind-the-back-through-the-legs finish. He even got a little Gatorade bottle pop out of it. Just nasty.
[reddit]