So, here's the question, and it's a good one:
And here's, well, here's an answer, from Jason Whitlock's recent ESPN.com piece:
I wrongly and naively thought that she was the aggressor in the attack, that Rice reflexively shoved her to fend her off and she slipped, fell and hit her head.
What have we learned? That some people assumed the event that ended with Ray Rice dragging Janay Palmer's unconscious body out of an elevator was complicated in a way that the first video couldn't communicate. And this is important because that's exactly what the NFL was hoping would happen.
Through the early stages of this debacle, the NFL sent the insidious message that they and their investigators and even the New Jersey authorities were privy to some set of information not available to the general public, and that this closely held information guided their decision making with respect to appropriate punishment. NFL reporters told us this information came from a second video from inside the elevator. NFL officials never made such a claim—they told us they'd talked to Ray and Janay and heard their version of the event, but, importantly, that version was never made public. Rice's lawyer, Michael Diamondstein, spoke at length about a "hypothetical" video showing Ray Rice being "repeatedly hit" before retaliating with too much force. The effect of all this talk of information not available to the public is an invitation for Americans to fill in the blank. And so that's what people did, as Whitlock demonstrates above. Many of us used the absence of information as an opportunity to insert, yes, provocation. That's what the NFL wanted.
G/O Media may get a commission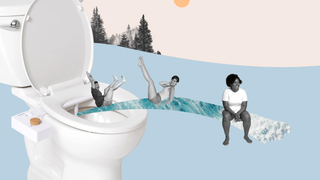 17% off
Tushy 3.0 Warm Water Spa Bidet Attachment
With its recent suspension of Rice, the NFL has now confirmed this: Now that they've supposedly seen the video for the first time, they agree that what took place in the elevator is worthy of this new, harsher punishment. What they "thought" happened was worth only two games. So, in simple terms, the NFL believes that what took place in the elevator is roughly thiiiiiiiiiiiiiiiiiiiiiiiis bad, whereas something like what Diamondstein describes is only maybe this bad. Knocking a woman cold is bad in inverse proportion to how badly she is misbehaving at the time, apparently.
Here's where this gets really fucking sad: There was information available that clearly showed Ray Rice acting as the aggressor throughout. Rather than seeking that information and acting upon it, the NFL instead acted as if Janay was the aggressor, and then passively but carefully led the public to that same conclusion, relying upon a deeply cynical belief that, if they just withheld certain details, our ugly American pathology would do the rest. And why? Because a video of a star NFL player cold-cocking his fiancée in an elevator is bad PR.
The NFL believes a woman can provoke a man into beating her. And the NFL is sure you agree with them. And, whether the NFL is ever found to have seen the video before announcing Rice's punishment or not, we have learned that they're willing to lie and misdirect and defame the victim to make sure we all believe that, in this case, she did.
Watch something else, will you?
Other Sports
11:00am — NBC Sports — English Premier League Soccer: Man U vs. QPR
Hilariously, QPR is ahead of Man U on the league table. Don't get comfortable, gents!
Noon — NBC — LPGA Tour Golf
Golf is golf.
1:00pm — ESPN — NASCAR from Chicagoland Speedway
For those of you ready to give up the NFL but not the self-consciously outsized faux-Patriotic hullabaloo.
1:00pm — TBS — Baseball: Indians @ Tigers
An AL Central matchup with by-God Wild Card implications.
1:00pm — beIN Sports — La Liga Soccer: Sevilla vs. Getafe
Guys, even mid-table La Liga matches are fluid and fun to watch.
1:30pm — NBC — PGA Tour Golf from East Lake Golf Club in Atlanta
They say all the new "stars" of the "sport" will be out there "competing".
1:30pm — WGN — Baseball: Cubs @ Pirates
Pittsburgh is still holding onto the second NL Wild Card and is right behind St. Louis in the NL Central, with a much better run differential.
3:00pm — ESPN2 — FIBA World Cup Basketball
U-S-A! U-S-A! U-S-A!
3:00pm — beIN Sports — La Liga Soccer: Granada vs. Villarreal
Granada CF has never finished better than 6th in the First Division. They are currently fourth, after two matches. COULD THIS BE THE YEAR?!?
8:00pm — ESPN — Baseball: Yankees @ Orioles
All that's left for the Orioles, who've all but clinched the AL East, is to crush the last remnant of New York's fading Wild Card hopes.
TV Reruns
1:00pm — WE Network — Roseanne
Solid binge option to cover the 1pm games from start to finish.
1:00pm — CLOO — House
Watch Dr. House have the exact same two or three interactions every episode literally all day long.
2:00pm — BBC America — Top Gear
An absolute cannot-miss good time. Let these spoiled red-coat bastards cover you all the way into the afternoon games.
3:00pm — Audience Network — 24
Three hours of watching Jack Bauer run around saving stuff will chew up a healthy part of the afternoon games.
5:00pm — AMC — Breaking Bad
Binge watch Breaking Bad all the way through the primetime national Sunday night game.
5:00pm — FXX — The Simpsons
Six consecutive episodes of The Simpsons will cover you through a good part of the afternoon.
5:00pm — TVLand — The Cosby Show
Solid, TVLand. Solid.
Movies
11:30pm — AMC — Apollo 13
Like most Ron Howard flicks, Apollo 13 loses nothing on basic cable.
11:30am — ion Television — Demolition Man
In case you weren't sure whether this movie is a ridiculous, 'roided-out, Michael Bay-ish treatment of Brave New World, they named Sandra Bullock's character Lenina Huxley. Trivia!
12:30pm — abcFamily — Alice in Wonderland
And it's not the hideous live action one, either!
12:35pm — MoreMax East — The Conjuring
Annabelle doll NOOOOOOOOOOOOOOOOOOOOOOOOOOOOOOOO!!!
1:00pm — SYFY — 10,000 B.C.
Woof. SYFY's slate of Sunday counterprogramming is taking a big step backward from last week. This piece of shit is your option of last resort.
1:00pm — FXX — The Five-Year Engagement
This cutie-pie romcom gets a lot of mileage out of just sort of letting Jason Segal and Emily Blunt be sweet together. Worth a watch, for sure.
1:50pm — Encore West — Good Will Hunting
I mean this is just a perfect option for the non-football watcher. It's an impossible movie to turn off, especially on premium cable, where you can hear all the FACKIN SWEAHS.
2:00pm — TCM — Sweet Bird of Youth
Paul Newman plays a gigolo. That's literally 100% of what I know about this movie.
2:15pm — abcFamily — Cinderella
abcFamily is not fucking around today. Busting out the classic Disney animated movies. A very solid option when things get desperate.
2:30pm — Comedy Central - Starsky & Hutch
I don't know. Ben Stiller, Owen Wilson, Vince Vaughn, Snoop Dogg, and Carmen Electra. Maybe this is your thing.
4:00pm — FX — Spiderman 3
The dance sequence in this movie has to be seen to be believed. One of the most excruciatingly embarrassing things ever committed to film.
4:00pm — abcFamily — A Bug's Life
Adorbs.
4:30pm — BBC America — Blade Runner
Not the Director's Cut, so you'll have to endure the narration, but still, a masterpiece.
4:45pm — Comedy Central — Tropic Thunder
Comedy Central had a much stronger Week 1, I have to say.
6:00pm — TBS — Anchorman
This is solid-as-hell counterprogramming. When this shows up on your TV, you'll watch.
6:30pm — E! — The Devil Wears Prada
So, this is a confused, mean-spirited movie with some screwed up, backwards ideas. On the other hand, I have to admit, it's good to watch. It is! What can I say.
7:00pm — FX — The Amazing Spiderman
No stunningly ill-conceived dance sequences in this one.
7:00pm — BBC America — Robin Hood: Prince of Thieves
Pay close attention to the accents in this movie - they are astonishingly poor. Kevin Costner gives up on that baloney British accent by the end of the first scene.
7:00pm — CN — Wallace & Gromit: The Curse of the Were-Rabbit
This is a legitimately excellent movie.
7:20pm — Comedy Central — Dumb & Dumber
If this is a guilty pleasure, it is surely nowhere near as guilty as taking a rooting interest in a bunch of guys giving each other brain damage all afternoon.
7:30pm — WGN — E.T. the Extra-Terrestrial
[starts crying just thinking about it]
8:00pm — Reelz — Bloodsport
Oh hell yes. This is just spectacular counterprogramming. It's the completely fabricated fantasy story of a cracker-ass American becoming a legendary kung fu fighter in an underground Hong Kong fighting tournament. This movie is quite possibly responsible for MMA. Awful, but in the way that sometimes awful things are wonderful.
8:00pm — Ovation — Saturday Night Fever
Saturday Night Fever-era John Travolta was just a ridiculously handsome and charismatic person, and this movie is still fun to watch.
Alright. There you have it. Clutch that 1-week NFL sobriety coin tight and tune in to something else. You can do it! I believe in you.
---
Photo via Shutterstock