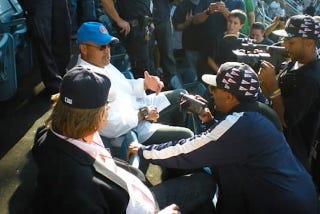 What you see here is Spike Lee interviewing Reggie Jackson in the right field upper deck of old Yankee Stadium. That's Val Kilmer there in the foreground, too, for some reason. I took this picture a few hours before the final game played at the old Yankee Stadium on September 21, 2008. It was a weird scene.
That day, Yankee Stadium opened up earlier than usual so that people could walk around the old ballpark one last time; you could even go on the field if you got there early enough. We did not get there early enough, so we killed some time and then headed to our seats which were about seven rows from the top of the stadium. In fair territory. The seats were largely empty still, but soon we saw a large entourage with a whole shitload of cameras, cops and security folks following and they were all coming right up to our section, maybe 10 rows down. We first realized it was Spike Lee because he was wearing his self-designed Yankee hat with all the pennants on it. And the glasses, always with the glasses. Then it was "holy shit, that's Reggie Jackson" and "is that...is that Val Kilmer?"
It was Val Kilmer and, weirdly, he was the only one I spoke to. After I shook Reggie Jackson's hand without saying anything—I kind of don't like Reggie Jackson but, I mean, Mr. October, I was speechless—I told Val he was awesome in Tombstone because he was awesome in Tombstone.
A large crowd had gathered obviously and my initial thought was that Spike was taking Reggie to spots where they had estimated his three home runs on three swings in the 1977 World Series landed and interviewing him in each, but none of the three landed up where we were. Maybe this was the spot of his longest home run ever at Yankee Stadium. Whatever the case, they were on the move to shoot in other spots around the stadium. I assumed this was going to be part of some kind of documentary, but I have never been able to figure out if it was ever made. I'm beginning to think Spike Lee just has better home videos than the rest of us.
So, there you have some context for the best picture I've ever taken at a sporting event. I encourage you to add yours in the comments.