As noted by ESPN, Business Insider, Sports Illustrated, CBS Sports, SB Nation, the New York Daily News, TMZ Sports, Yahoo Sports, Fansided, For The Win, and Bleacher Report, among others, the Better Business Bureau has awarded LaVar Ball's Big Baller Brand an F for poor customer service. LaVar Ball, as you might have read at Deadspin several times on Monday alone, is a famous dickweed and shameless brand pusher, which means that horrible Big Baller Brand service (like one of his customers getting called a "small baller") seems like ideal blog fodder.

However, the sporting press at large failed to note that the Better Business Bureau is a huge scam, and that its ratings are essentially meaningless. While they seem like a trustworthy consumer advocacy group, the Better Business Bureau has undermined their own legitimacy several times. A 2010 ABC News exposé caught the Better Business Bureau giving an A- grade to a fake business unsubtly dubbed "Hamas" in exchange for a payment of $425. BBB also accredited the online Nazi haven Stormfront and a few other nonexistent businesses that paid the registration fee.
A more recent CNN investigation found that over 100 businesses that have had "serious actions taken against them by government regulators in the past year" or were "ruled flat-out scams" still maintained A- grades or better from the BBB. "In many cases, more weight is placed on companies addressing complaints through the BBB's own system than any other factor—even government lawsuits alleging practices that directly violate the BBB's principles of membership like misleading advertising," CNN wrote.
Ball may be a toxic asshole dedicated solely to circling the wagons around his dumb shoe company, but he was completely correct when he told Darren Rovell that the Better Business Bureau was full of shit.
"Better Business Bureau is as outdated as the Yellow Pages," LaVar Ball said, in a text, to ESPN. "Who cares about them? Tell them that Yelp! has replaced the Better Business Bureau. We honestly thought the Better Business Bureau was out of business. The new BBB stands for the Big Baller Brand."
G/O Media may get a commission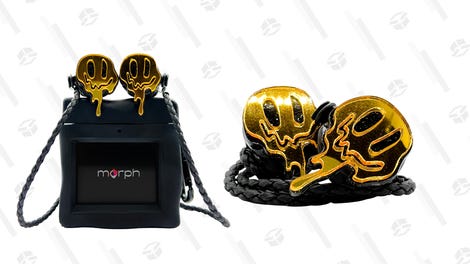 morph audio
Morph Earphones
Some things are true even if LaVar Ball says them.