There's a story in the Bible about a guy named Samson, a very strong man with very long hair that had never been cut—and when it finally did get chopped off, he lost all his strength. It's the same thing with fat rappers.
Aaron Rodgers should go full Joe Namath | Comedian Bert Kreischer
A big belly is to a hip-hop star what long, flowing locks were to people in the Old Testament, apparently. Thus, when a good emcee who happens to be fat loses weight, he stops being good. By dropping pounds, they somehow stop dropping hits. Think about it. When was the last time you were excited about a Rick Ross album? He put out two last year. TWO! Neither were very memorable. Meanwhile, the guy is disappearing before our very eyes. Shout-out to all the pear, but they're seriously endangering his legacy.
The strength of once-obese rappers lies in the weight they shed. Perhaps their size gave them some sort of don't-give-a-fuck attitude that fades away when they get healthy. There's another side to it, too: Think of all the fat rappers out there still doing their thing and doing it well. Have guys like Bun B or Big Boi or Twista gone downhill? Nope. Neither have their waistlines. Action Bronson is fat and happy; Fat Trel is living up to his name, too. Pimp C, Big Pun, Big Hawk, Fat Pat, Biggie Smalls ... they all died fat, and they all died at or near the top of their games (RIP).
Meanwhile, there are several current rappers who got swole and then got terrible. Let me explain.
Mike Jones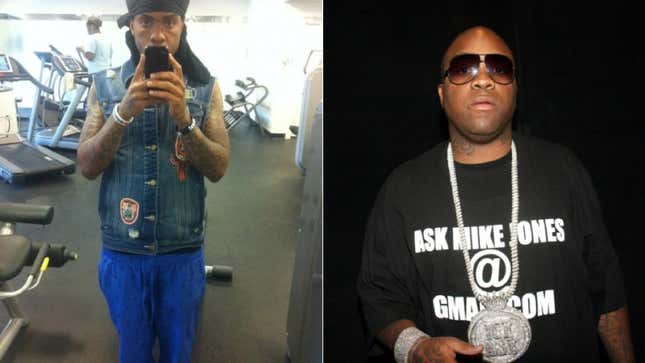 WHO? In the mid-aughts, Mike Jones showed all the promise in the world—"281-330-8004 / Hit Mike Jones up on the low." He was on fire and destined for greatness ("Back then they didn't want me / Now I'm hot, they all on me"). Then he hit the gym.
Fat Years
"Badd"
"Still Tippin'"
"Back Then"
"Mr. Jones"
Not-Fat Years
Fat Joe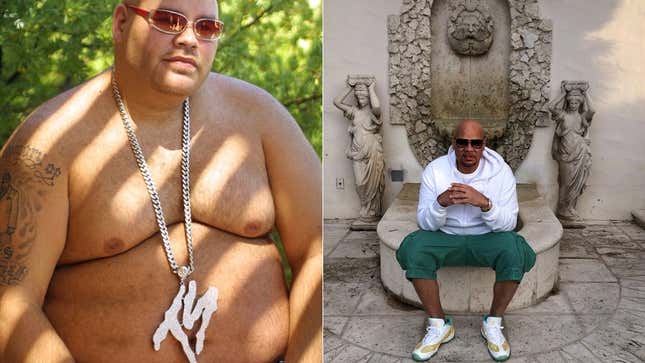 With a name like Fat Joe, you can't just stop being fat. It's blasphemy. Around 2005 (and not a moment after), Terror Squad and co. was huge. So was Joe, in a physical sense. Now, he has shrunk to virtually half his original size, and done basically nothing else.
Fat Years
"Lean Back"
"What's Love"
"Get It Poppin'"
Not-Fat Years
I honestly have no fucking clue
Paul Wall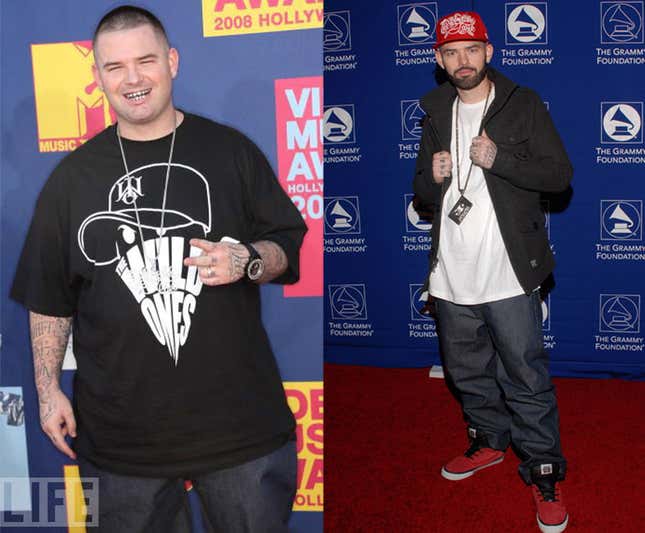 Human bobblehead Paul Wall had a moment about 10 years ago when he was all over the place; then he got his stomach stapled, which not only rendered him unrecognizable, but torpedoed his career. All that lean the self-proclaimed "po' up poet" drinks probably doesn't help things, either.
Fat Years
"Sittin' Sidewayz"
"Drive Slow"
"Grillz"
"Chunk Up a Deuce"
Not-Fat Years
??????????? I don't know! He just dropped an album in 2014, and I don't know a single song; all I know is he sells his own vodka now and drinks tons of lean and hangs out with TV Johnny like all the time.
Scarface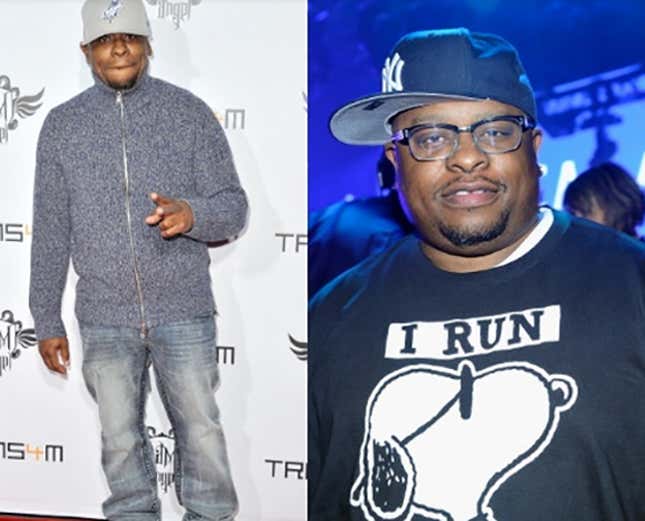 Scarface is such a tiny guy now! He's also a living legend, and I guess he can sit on that for the rest of his life and never put out another hit, and that would be fine. Buuuut, that's clearly his plan: He hasn't done anything notable since maybe "My Block." He also lost about 100 pounds recently.
Fat Years
"Fuck Faces"
"Smile"
"My Block"
"Guess Who's Back"
"Mary Jane"
Not-Fat Years
Rick Ross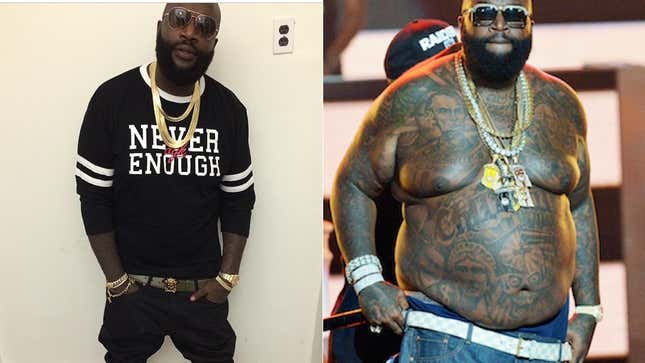 I hate to break it to you, but Rick Ross kinda sucks now. He used to be great, but his last few albums ... well, I'm going to just trail off here, because I can't name one good song off the most recent one, Hood Billionaire. Now all he's good for are guest spots. He's lost heft as a superstar, too.
Fat Years
"9 Piece"
"Hustlin'"
"Blowin' Money Fast (BMF)"
"I'm Not a Star"
"Aston Martin Music"
"The Boss"
Not-Fat Years
"Sanctified," I guess, but the whole #rossfit thing may have started even after that.
I think I've made my point. I'm not saying I want anyone to shy away from a healthy lifestyle; it's just that a healthy lifestyle is sometimes in direct opposition to rap excellence. I love Rozay. He seems like a good guy. He owns a chain of Wing Stops. He's the #10pcshawty, and he should stay that way. He's perfect just the way he is. So are all the other guys in the fat-rapper cabal. This theory is true because it came from the Bible.
---
Art by Tara Jacoby
The Concourse is Deadspin's home for culture/food/whatever coverage. Follow us on Twitter.