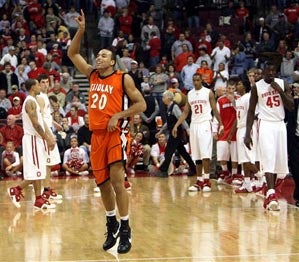 It's a good thing Ohio State has the No. 1 football team in the country and is all caught up in those Terrifying Fighting Illini this week, because otherwise they might have noticed that the basketball team lost an exhibition game to Division II Findlay last night.
Yes, yes, it's an exhibition game, and it doesn't really mean anything ... but to have a tiny school come on to your home court and beat you, when you play most of your starters the whole game has to be demoralizing. (The same thing happened to Michigan State last week.) Particularly when you're coming off the NCAA championship game.
The Big Ten Network was showing the game, which means nobody saw it, but they do have highlights on their site. They're right here:
We kind of enjoying watching old ESPN rejects doping around on fledgling stations like the Big Ten Network. It must be frustrating to do all that work with the realization that it's more likely people will see your program on this embedded video than will watch it in their homes.
Two more notes on the Big Ten Network:
1. Tim Doyle is the network's hoops analyst. He played for Northwestern last year. He also does not know how to pronounce Ohio State coach Thad Matta's name.
2. That highlights music is rockin'.
Honestly, this network is a disaster. So fun.
Big Ten Bitchslapped By Division II Again [Storming The Floor]