SANDUSKY, Ohio — There is more than one enormous rubber duck. I did not know this when I decided to travel to Sandusky to see one, but I can't unlearn it now. Though there was once a bigger duck in Saint-Nazaire, France, the monstrosity anchored in Sandusky comes with a registered trademark: it is the "World's Largest Rubber Duck®." Co-owner and local resident Ryan Whaley said that he believes it is the biggest duck in the world at the moment, but the realm of colossal avian inflatables is surprisingly convoluted.

First things first, though: the duck is big. It's big enough that you can catch swatches of yellow reflected in nearby windows and over the surrounding buildings as you approach. Whaley told me that it's just over six stories tall—the NBA would list it at 62 feet—and weighs nearly 15 tons including the decking on its barge base; he also confirmed that, "The design for the duck comes from a Chinese toy company in like the '30s, and so there was no copyright or anything on it." The look on its face is blithe and sweet; given its size, perhaps inescapably, it is also a little ominous. The people filtering towards the water for the town's Festival of Sail seemed giddy with anticipation at the prospect of staring the big bird down.

Dockside, kids scramble to take pictures two-across on an oversized but comparatively reasonable deck chair. A guitar player sings "Mary Jane's Last Dance" on a platform out front. A child clears the final brick wall and hustles around the corner, sees the orange bill and huge head emerge, and literally squeals with glee. A grown woman almost involuntarily points and yells "There he is!" And then she laughs like a mad scientist.

"It was actually planned to ... just do it in L.A. and that would have been about it," Whaley said, recounting his duck's origin story. "But it turns out there's a whole culture of duck followers out there and they want to see it everywhere." The duck is a powerful thing. The duck is also not as simple as it looks.

G/O Media may get a commission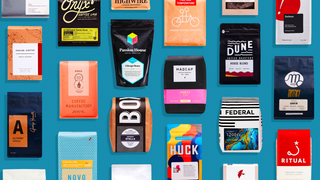 Get $25 free
Trade Coffee - National Coffee Day
---
If you are alive in the year 2018, you know how it feels to be mugged by your childhood. At worst this looks like Michael Bay collaborating with the literal Department of Defense to turn the volume up to 11 on a reboot of a cartoon that was pretty cynical to begin with. At its best, something comforting and a little bit wondrous can survive the packaging and processing. The duck felt more like the latter than the former, until I started asking questions.

Mama Duck, as this iteration is affectionately nicknamed, comes complete with generations of childhood bathtime goodwill. It rides the same wave of nostalgia that took a Muppet-fronted song about a more reasonably portioned rubber duck to number 16 on the Billboard Hot 100. Seeing that massive placid cartoon face and doubly massive body, floating in the harbor alongside both vintage tall ships and modern jet skis like a Hayao Miyazaki fantasy materialized, really is a little bit wondrous.

Dutch artist Florentijn Hofman may or may not have been the first to have the thought, but he conceived of the idea for a larger-than-life rubber duck while working on his graduate degree. He has said he was aiming to bring people joy, make them feel small and connected relative to this absurd and absurdly sized art, and provide a "yellow catalyst" to encourage those beholding it to reevaluate public spaces. With some help from a yogurt company, Hofman made the giant sculpture a reality in 2007. The story gets increasingly tangled from there, but one place to start is this: the duck in Sandusky is not an official Hofman exhibition.
Hofman's studio has worked on a variety of massive creature installations, but the rubber duck took off like nothing else. Soon, cities all over the world were commissioning him to set up versions of the exhibit. Despite the fact that people going back over a century have been creating rubber duck designs, and despite the fact that the toy Americans are most familiar with was patented by sculptor Peter Ganine in 1949, Hofman has made every effort to maintain tight control over his creation. In an interview with The Virginian-Pilot, Hofman cited surrealist René Magritte in his defense. "I always say, 'it's not a rubber duck,'" Hofman told the paper. "A rubber duck is a toy you have in your bathtub. As Magritte said, 'Ceci n'est pas une pipe.'" Magritte, of course, wrote those words on a painting that very clearly depicted a pipe. "If it was that, then, come on!" Hofman continued. "I would not be so passionate about the work."

As the duck's popularity spread, Hofman's command of a design that was not purely his to begin with became progressively more elusive. Unhappy about unapproved duck merchandise, which included duck-branded public transportation cards, Hofman canceled his trip to his duck's inauguration ceremony at Port of Keelung, Taiwan. "[It was] turning into a commercial circus which we don't approve of," he said, "and of course dislike." In Pittsburgh, local cartoonist Joe Wos was sent a cease and desist order by the Pittsburgh Cultural Trust for selling "QUACK N' AT" T-shirts he created, out of fears they would damage "the brand of the Rubber Duck." In Belgium, in 2009, someone stabbed a big rubber duck 42 times. It's unclear if that was just vandalism or a larger statement.

At CityLab in 2014, the critic Kriston Capps argued that the duck must be stopped, not only because it "has all the nutritional value and regional identity of a Diet Coke," but also because it drains public resources and freezes out local artists. "This artist clearly struck it big," Capps told me by phone last month, "and seems to have made an enduring business model out of touring this spectacle. It's somewhat dismaying to see that there's no limit to the number of cities willing to buy into this fad." Capps drew a parallel with governments making demonstrably destructive choices like hosting the Olympics or the World Cup, "things that are really going to hurt them but look very shiny." He also blamed cities that agree to monopolistic conditions while at the same time arguing these spectacles will provide an economic boost.

It was almost inevitable that there would be counterfeits of the duck, if that's even the appropriate word for gargantuan pop-art knockoffs. After Hofman's act visited Hong Kong in 2013, huge reproductions sprouted-up in multiple Chinese cities, infuriating the artist. "If I was a Chinese person, I would revolt. I would really revolt," Hofman told the Wall Street Journal. "This kills society, this kind of behavior." Months later, in the UAE, the mobile car wash company GeoWash built its own duck for a tour starting in Dubai; after some confusion, they confirmed that they were not affiliated with Hofman. In 2016, Hofman's representatives complained that a duck adopted by Brazilian anti-corruption protesters—with X's replacing the eyes and a slogan across its chest—was too similar to Hofman's. The New York Times reported spokeswoman Kim Engbers saying, "Of course we want to emphasize that it is a shame that this parody is used for propaganda. Our project is meant to be nonpolitical."

As the Chinese copies were flourishing, critic Alicia Eler presciently contended that rip-offs are the nature of pop art, with Hofman's work itself being one. "If Hofman is honest in his intentions for the duck as a work of art, the shanzhai effect on the duck is actually helping further his supposedly altruistic work of art," Eler wrote. "It may be breaking copyright laws, but at least more people can have an authentic experience with the duck, or at least a copy of the 'original' duck." Whether or not anyone involved is even breaking any laws is debatable. It's just a big rubber duck, at some point.

---
Craig Samborski is the president of an event management company called Draw Events. In 2014, the firm was allegedly partnered with Studio Florentijn Hofman to feature a duck at the Tall Ships Festival in Los Angeles. Basically everything after that is the subject of heated dispute. Hofman has claimed that Samborski never paid him, used Hofman's plans to build a duck of his own, and then went rogue with said duck; Samborski countered that Hofman was paid but that the sketches he provided were not even useable, forcing his team, including Whaley, to create a new design plans from scratch. "[Hofman], of course, tried to claim that the duck was his, and his idea," said Whaley, "when actually there's plenty of these ducks around the world." Motherboard explains that that while Hoffman holds the copyright for the patterns to make his duck, Samborski has since gotten a trademark for "an exhibit featuring a large rubber duck floating on a natural body of water at a community waterfront festival."
The duck that I saw in Sandusky turned out to be the very one Samborski and Whaley built for L.A.; Draw Events organized Sandusky's Festival of Sail. The festival isn't much, truth to tell, and the $10 entry fee—it's significantly more if you want to board the five ships or take a day sail—feels steep, but it's still a decent way to spend a couple hours on a hot summer weekend. There are pretzels, bourbon chicken, quality local beer. The cold brew coffee is very good. Deckhands in period garb fire off cannons. On Friday night Robert Randolph andThe Family Band are playing. On Saturday it's The Wailers in whatever happens to be their current configuration.
The duck's visit to Sandusky was, at least from the perspective of the organizers, a rousing success. "We were very happy with the attention it brought to Sandusky and the experience many people left with," Sandusky's Bicentennial Coordinator, McKenzie Spriggs, told me via email. "Our downtown was jamming and businesses reported great foot traffic."

Whaley agreed. He didn't have final numbers yet but estimates over 15,000 people bought tickets for the festival, and anecdotally said it was "the busiest that they've ever seen downtown Sandusky in the last 50 years." At the heart of it all was the duck, huge and splendid in its goofiness, and so strangely vacant.

"The rubber duck is so ubiquitous it serves as a kind of non-statement, a red-beaked blank slate upon which individuals can perch whatever type of identifying characteristic best encapsulates the message they hope to send," writes Cara Giamo in an excellent piece for Atlas Obscura. For all of Hofman's platitudes about what the duck means, he has also gone to great lengths to make sure that it doesn't actually say much of anything. "If his goal is to create utterly narrative-free, content-less art whose whole intent is to be an empty corporate gesture," Capps told me, "then I think he has succeeded wildly." For all the talk about the duck being a catalyst, it's not exactly clear what it's supposed to catalyze, especially if it is so insulated from the circumstances around it.

Asked about the duck's appearance in Seoul, where it accompanied several concerning sinkholes at the controversial site of a vast shopping mall, Hofman said that the duck "simply shows what's here. If there are problems in the vicinity because of the tower, it simply shows it and starts a conversation." When pressed further about the problems inherent to sponsorship—that particular commision was by the Lotte Group, which was building the troubled mall—Hofman told Yonhap News, that "each project rubber duck in the world needs a sponsor, and in this case it's Lotte. And that's it."
It wasn't quite it. "If you look at a museum," Hofman continued, "it's also paid by companies. A museum also brings in people, they want money to show art ... I think a commissioner who brings a rubber duck has benefits. I'm not blind. But they respect the art to stand alone."
In a similar spirit, the homepage for Samborski and Whaley's duck is tagged with the banal legend "AN INSPIRATION TO ENJOY THE WORLD'S WATERFRONTS & CONSERVE OUR NATURAL RESOURCES," but there's no reference to any specific charity or goal. "Absolutely, yeah. We've given to different charities and things like that," Whaley said, when asked if they had used the duck to work on any conservation efforts. "A lot of times, some of the events go back to whatever town, city, charity, government entity that we're working with, a lot of the event proceeds go back to them as well." He continued, "And you know, I think that the key—really the key for the duck more than anything is drawing attention to those waterfront areas that maybe don't get that much attention all the time." Mostly, the duck is supposed to make you think.
---
The oil painter John Brosio's work is sometimes disturbing and always overtly representational. He is probably best known for painting tornadoes, but his series depicting towering 1950s B-movie monsters crushing buildings and wreaking havoc and marauding over realistic populated landscapes is just as remarkable. In the foreground of paintings with titles like State of the Union and Fatigue 2 are people just trying to get through their lives while tremendous mutated crabs devour sport utility vehicles. After the financial collapse of the previous decade he painted a CEO being eaten by dinosaurs. He is not a subtle artist, but also this is not a subtle age.

It was only after I took a photo of the duck in front of Jackson Street Pier that included a nearby plaque commemorating the Underground Railroad, on which Sandusky was a hub, that I recognized the duck as the inverse of a John Brosio painting. The hulking figure in focus is serene and oblivious, but the chaos manufactured by the world around it goes unrepresented.

"Think of the subsidy that [a city] is providing an artist by giving him a stage like a harbor," Capps said. "If we just erect a giant screen downtown and show Star Wars: Episode 9, that's guaranteed to be a big hit. It's just not your hit. It doesn't belong to you. So I think that the antidote to these spectacles is to invest locally. When you support local artists and their work, you keep them there, you build a stronger local community, and I think you really add to the richness of the world."

Broadly speaking, the world is better off for works that elicit delighted noises from kids on sight, and the duck, for all its many compromising factors, is that. There has to be a place for cartoon animals and oversize curiosities, in Sandusky and everywhere, if only because there are so many people excited to see them. "We're very happy. It was packed downtown. Just really awesome," said Whaley. "So many people got to set their eyes on Sandusky that haven't done it in years, and … also went and they spent money at local businesses. And that really was one of the goals of the event." But the fact that some aspects of an attraction can be a local boon doesn't preclude asking questions about which kinds of public art get supported, or how that art is funded and where those funds go, or about who intellectual property laws protect, or who gets to use public spaces and who gets pushed out of them.

Delight is a noble enough goal and the duck, silly as it is, delivers. It's also inherently mute, and a mercenary jumbo plaything isn't going to answer any of those important questions. The duck, which is at this point more public than art, seems increasingly to exist outside those questions. It's built to bob there, grinning and unconcerned, until it deflates. It is indeed a catalyst, but maybe not always in the way that claim was intended. What it means, and what it catalyzes, is for everyone else to decide. If it's art, that's why.